The Messenger spreads its wings
Having secured a U.S. Netflix deal and multiple international sales in Europe and Asia, the songbird documentary is now embarking on a Canadian campus tour.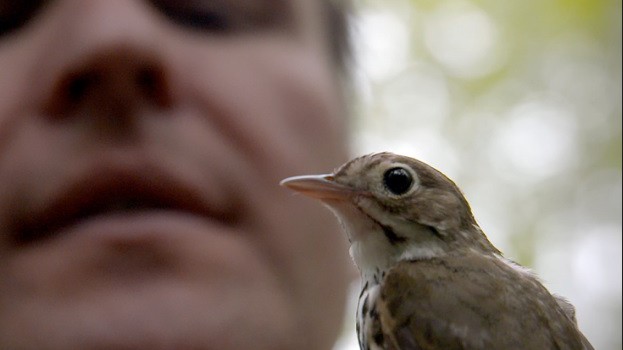 Since making its world premiere at Hot Docs in 2015, songbird documentary The Messenger has charted an unconventional course.
Beginning with a 40-screen theatrical debut in the U.S. in late 2015, the  Canada/France treaty coproduction later opened in Canadian theatres in March of this year before making its broadcast premiere on CBC's Documentary channel in May.
Now, however, the Su Rynard-directed film, which is self-distributed in Canada by the filmmakers, is headed back into theatres in Northern Ontario (including a week-long run in Sudbury's Imagine Cinemas Downtown Movie Lounge), as well as embarking on a campus tour of schools and universities across Nova Scotia, New Brunswick, Ontario, B.C. and Saskatchewan.
"I think we're kind of forging a new way in terms of self-distribution, and it's sort of defying the odds because most of the Canadian conventional distributors don't think there's a life [for documentaries] after television," producer Joanne Jackson told Playback Daily.
Many of the screenings have been facilitated by the doc's accompanying website, which allows visitors to request their own community screenings. So far, the film has received more than 200 requests via the website's request-a-screening portal.
In terms of international sales, the doc has been faring well too, securing a U.S. deal with Netflix in April, as well as international deals with SVT (Sweden), Prima TV (Czech Republic), Al Jazeera Documentary (Qatar), Estonian public broadcaster ERR, YLE (Finland).
In addition, the filmmakers are releasing an educational DVD and Blu-ray companion piece in November. Following a presentation that Jackson made to the Ontario Teachers' Federation, science professor Elizabeth Straszynski (University of Toronto Schools) offered to design a lesson plan to explain the science behind the documentary to students. Aimed at children from kindergarten-age up to 12, the accompanying DVD and Blu-ray release is designed as a study guide that educators can adapt for the age group of their choosing.
The Messenger is written by Sally Blake and Su Rynard and produced by Joanne Jackson, Martin de la Fouchardière, Diane Woods, as well as Blake and Rynard. Kino Lorber is handling U.S. distribution of the doc, while Zed is heading up international sales.