TIFF '16: Colossal sold to unnamed Chinese buyer
The sci-fi comedy, produced by Vancouver's Brightlight Pictures and Sayaka Productions, will have a 2017 North American release.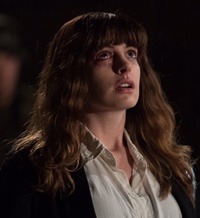 An unnamed Chinese buyer has acquired the North American distribution rights to Colossal.
The feature, which had its world premiere at the Toronto International Film Festival last week, was sold for seven-figures, Shawn Williamson of Brightlight Pictures told Playback Daily.
Williamson produced the sci-fi comedy with Nahikari Ipiña of Sayaka Productions. The film is the first project out of the three-year, five-film sales agency deal that Brightlight signed with L.A.-based Voltage Pictures in 2015.
While no details on the buyer could be announced as of press time, Williamson told Playback Daily that more information on the buyer is coming.
"That comes down to conversations with us and Nicolas [Chartier, CEO of Voltage] about when, and also it really has to do with the Chinese [company] and what their plans are," he said.
Colossal stars Anne Hathaway as a hard-partying woman who discovers she may be inadvertently controlling a monster that is wreaking havoc on the other side of the world.
Photo courtesy of TIFF