In Brief: Maudie to open VIFF, Mongrel's home-ent hire
Production is underway in Ontario on the six-part miniseries, L.A.'s mayor wants to bolster VFX credits, plus more news.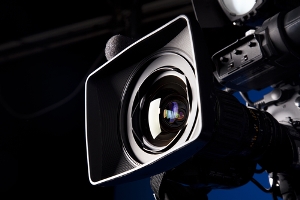 Mongrel Media appointment
Mongrel Media has appointed Jessica La Grassa as manager of sales, home entertainment and ancillary. La Grassa replaces long-time Mongrel exec Neil Morrison, who is leaving the company for a new position. La Grassa previously served as Mongrel's brand specialist for home entertainment. Prior to joining Mongrel, she worked with Anchor Bay, Maple Films and Alliance.
Alias Grace adds cast as cameras roll
Production is underway on six-part miniseries Alias Grace, written and produced Sarah Polley and directed by Mary Harron. The series, which is produced by Halfire Entertainment, has also announced additional cast, with David Cronenberg, Rebecca Liddiard (Houdini & Doyle), Paul Gross (Hyena Road), Edward Holcroft (Kingsman: The Secret Service) and Kerr Logan (Game of Thrones) joining previously announced cast members Sarah Gadon and Anna Paquin (True Blood). The series is shooting throughout Ontario until November. In Canada, the series will air on CBC, while globally the series will be available on Netflix.
Maudie to open VIFF
Canada/Ireland coproduction Maudie has been named the opening night gala for 2016′s Vancouver International Film Festival. The film, which stars Sally Hawkins and Ethan Hawke, tells the story of an arthritic Nova Scotia artist who overcame her physical disability to become one of Canada's most famous folk artists. In addition, it was announced that Terrence Malick's The Voyage of Time: The IMAX Experience is the festival's closing night gala. Maudie went to camera last October in Newfoundland. The film is produced by Bob Cooper of L.A.-based Landscape Films, Susan Mullen of Dublin's Parallel Films and Mary Young Leckie of Toronto's Solo Productions.
CSC grants full accreditation to four cinematographers
The Canadian Society of Cinematographers has granted full membership status to four filmmakers from across the country. Toronto-based DOP Catherine Lutes, Ottawa-based cinematographer Oliver Millar, Montreal-based Nathalie Moliavko-Visotzky and Genevieve Perron. All four were recognized for their artistry in their respective field and can now bear the "CSC" accreditation after their name.
Blue Ant's Love Nature teams with WWF
Blue Ant-owned channel Love Nature has partnered with World Wildlife Fund (WWF) International on a project that will see WWF use scenes from Love Nature documentaries and series to promote wildlife via Twitter, Facebook and Instagram. As part of the partnership, WWF will use original scenes from Love Nature's catalogue, while WWF International's digital hub will promote Love Nature's recently launched video streaming service.
L.A. mayor calls for increased post-production tax credits
The mayor of Los Angeles, Eric Garcetti, has called for increased post-production tax credits in the state of California. During a speech at the opening of a new visual effects studio in Sherman Oaks, CA, the mayor said he would like to see an expansion of the current post-production tax credit, which currently sits at 5%, as well as an overall increase to the capped USD $330 million tax credit in the state. In September 2014, California increased the cap on its annual tax credit from USD $100 million to USD $330 million, though is still losing production work to jurisdictions with superior incentives, such as Vancouver. In recent years, companies such as Sony Imageworks have relocated their head offices to Vancouver to take advantage of the post-production tax credits.
Chris Bonnell to retire from Newfoundland and Labrador Film Development Corporation
After 19 years with the Newfoundland and Labrador Film Development Corporation (NLFDC), executive director and film commissioner Chris Bonnell is retiring at the end of the month. Bonnell has been with the company since 1997, when the NLFDC recorded approximately $1 million in production activity. Last year, the company saw $46 million in production activity. Bonnell's final day with the NLFDC is Sept. 30.