Filming begins on Workin' Moms
Production on the comedy, which was created by Catherine Reitman (pictured), is currently underway in Toronto.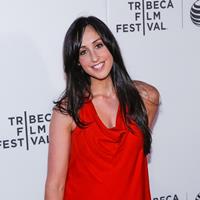 Production is underway in Toronto on the CBC original comedy Workin' Moms.
The series, which was created by Catherine Reitman (Black-ish), is produced by Wolf & Rabbit Entertainment ULC. Reitman will also star in the series and serve as showrunner.
Workin' Moms (13 x 30 minutes) was commissioned by the CBC in October of last year. It follows longtime friends Kate (Reitman) and Anne (Dani Kind) who befriend Jenny (Jessalyn Wanlim) and Frankie (Juno Rinaldi) in a mommy group. The series follows the struggles of these women and examines how they juggle their burgeoning identities as mothers.
Production on the series will continue until the end of October, with a premiere date set for winter 2017.
Joining the cast are Reitman's real-life husband and producing partner Philip Sternberg, who will play Kate's husband Nathan; Ryan Belleville (Wynonna Earp) as Anne's husband Lionel; Olunike Adeliyi (Republic of Doyle) as Frankie's wife Giselle; Dennis Andres (Bed of the Dead) as Jenny's husband Ian; Kevin Vidal (Sunnyside) as Kate's work nemesis Mo; Mimi Kuzyk (UnREAL) as Kate's mother Eleanor; and Peter Keleghan (Murdoch Mysteries) as Kate's boss, Richard Greenwood.
Reitman will direct two episodes of the series, with Paul Fox (Schitt's Creek) and Aleysa Young (Baroness Von Sketch Show) directing the remaining 11 episodes. The series is written by Reitman, Rebecca Kohler (Kim's Convenience), Karen Moore (What Would Sal Do?), Diane Flacks (Baroness Von Sketch Show) and Ingrid Haas (The UCB Show).
Workin' Moms is executive produced by Reitman and Sternberg. It is produced through their shingle Wolf & Rabbit Entertainment ULC, with the participation of the Canadian Media Fund. The series is distributed internationally by Coldsprings Media LLC and represented by Vanguarde Artist Management and CAA.