Maudie to open Atlantic Film Festival
Justin Simms' Away from Everywhere and Michael Melski's Perfume War will also get world bows.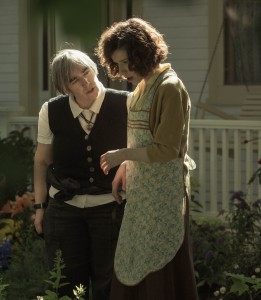 The Atlantic Film Festival has unveiled a lenghthy list of galas and Atlantic Canadian programming for the 2016 edition of the fest.
The Halifax festival will open with Maudie (pictured), which will have its Canadian premiere at TIFF. The Canada/Ireland copro from director Aisling Walsh shot in Newfoundland last year and is based on the life of Nova Scotia artist Maud Lewis. The film is produced by Landscape Films, Dublin's Parallel Films and Toronto's Solo Productions; Mongrel Media will distribute in Canada.
Bruce McDonald's Weirdos, which follows two teens hitchhiking through Cape Breton, will screen as the festival's Friday Night Gala. Marc Almon and Mike Macmillan produced the film, with Marc Savoie serving as executive producer and Marc Tetreault coproducing. Films We Like will distribute Weirdos in Canada.
The festival's Wednesday Night Gala is the world premiere of Perfume War, from director Michael Melski. The documentary follows a single mother who, after her best friend is severely wounded in Afghanistan, begins working with Afghan farmers in an effort to bring peace. Perfume War is produced by Halifax's Loud Baby Productions.
The festival's Essential Presentations program will feature the premiere of four Atlantic Canadian films including the world premiere of Justin Simms' Away from Everywhere, which stars Shawn Doyle and Jason Priestley. The film is produced by Mad Mummer Media, Morag Loves Company and Quiet Revolution Pictures.
The program will also feature John Walker's Quebec My Country Mon Pays, Brigitte Berman's The River of My Dreams: A Portrait of Gordon Pinsent and Ashley McKenzie's feature debut Werewolf.
The Atlantic Focus Program will feature the world premieres of Neal Livingston's 100 Short Stories; Koumbie's Ariyah & Tristan's Inevitable Breakup and Nicole Steeves' Head Space, both of which won this year's 1K Wave Atlantic contest; Martine Blue's Hunting Pignut; Justin Oakey's Riverhead; Catherine Bussiere's self portrait in may; Harmony Wagner's Singing to Myself; and Amanda Dawn Christie's Spectres of Shortwave. The program will also feature Risteard Ó Domhnaill's Atlantic; Paul Kimball's Exit Thread; Michael Fuller and Neil Rough's Myrtle Beach and Ben Proudfoot's Rwanda & Juliet.
The Sunday Night Gala: Reel East Coast Shorts will feature nine short films from Atlantic Canadian filmmakers, while its Atlantic Broadcast Program, which showcases the region's television industry, will feature 11 works.