Family Channel preps We are Savvy
The magazine-style series from B Minors is set to bow July 1. (Hosts Spencer Barbosa, Tehya Silbermann and Sarah Webber pictured.)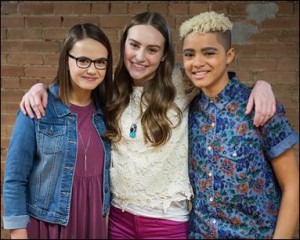 DHX Media's Family Channel has announced it will premiere new magazine-style series We are Savvy on July 1 at 6:30 p.m.
The "YouTube-inspired" pop culture series (20 x 30 minutes) is hosted by Spencer Barbosa, Tehya Silbermann and Sarah Webber and set in each of the girls' bedrooms. The show, aimed at tweens, will feature reports from special events and interesting venues, DIY craft segments, interviews with pop culture stars, peer profiles and special guest appearances.
Season one will feature guest appearances by Tegan and Sara, Alessia Cara, Amy Sedaris, Jeanne Beker and more celebrities.
Following its Canada Day premiere, the show will air regularly on Fridays at 6:30 p.m. New episodes of the show will also be offered on Family OnDemand and through the Family Channel app.
We are Savvy is executive produced by Sam Dunn and Scot McFadyen for Toronto-based Banger Films' kids division, B Minors. Jeni Besworth and Adrienne Reid serve as series producers. The series was commissioned by DHX Television and international distribution will be handled by DHX Media.