Randy Lennox makes his mark at Bell Media
Who's the man driving original programming at the broadcaster, and what's his plan? Playback speaks to Lennox following his first upfront to find out.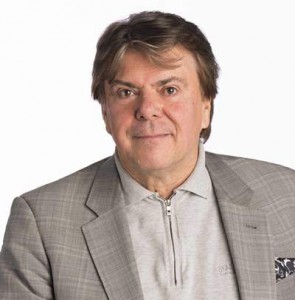 Canada doesn't have very many celebrity-style business executives, but Bell Media's Randy Lennox comes pretty close.
The now-president of entertainment production and broadcasting arrived at Bell Media last August, in the midst of the broadcaster's large-scale reorganization. The former president of Universal Music Canada, Lennox is not only a survivor of the digital era's original disrupter, music piracy, but he's used to working with creatives and is the kind of guy who knows everyone in the room – any room.
While he spoke at Prime Time and is often seen out and about, real insight into how Bell Media's original programming would reflect his influence has really yet to be seen. But with one upfront now behind him, a picture is beginning to emerge.
Clues to his influence were sprinkled throughout the Bell Media upfront: Pier 21′s The Beaverton, developed as a half-hour satirical news show, was presented to media buyers both as a traditional TV series for The Comedy Network, and as bite-size, real-time-oriented programming on a new mobile app Bell will be releasing, called Snackable TV.
Speaking with Playback the day after the event, Lennox said The Beaverton is currently one of the best examples of the company's new "content knows no boundaries" approach. The series is being released as a mobile-first product, a marked break from the past, when it would have most likely gone straight to TV with mobile as an afterthought.
"If there's an instance that happens on a Wednesday night in Vancouver, we want to echo that online within 24 hours with The Beaverton, not the following September on television," he said. "It's what I call 'real time echoing.' In the social media world, 48 hours is like a year and a half. The notion that we have a digital strategy around real-time news and comedy is really important to us."
Another is in Frontier, the six-part scripted series for Discovery greenlit last November, alongside a deal that saw Netflix board the series as a distribution partner for its international markets. Produced by Take the Shot Productions and Factory Backwards, Frontier was Lennox's example to the upfront audience of Bell Media's efforts to bring new partners into its remit to increase the reach and quality of its original programming efforts. He specifically cited Bell Media's $20 million investment in the series, and the importance of its distribution partnership with NBCU for six-part series The Disappearance. He described such partnerships to Playback as a way of increasing the "quality calibration" of TV series, and making them better able to compete in a cluttered TV environment.
"When you can double down on Frontier by having the strategic partnership with Netflix and have that on the screen, on a story that is already great and now, production-wise, is exponentially greater…the strategy is not so much mitigating risk through partnership but accentuating quality productions through partnership."
He says that, without question, the ability to build out competitive – domestically and internationally – programming was one of his main attractions in joining Bell Media.
"Mary Ann called me to join Bell Media [and] I joined because of the authentic priority that Bell was putting into original content and our want for that content to travel. The term international content is probably slightly overused – everybody is on that same mission – but to be clear, it's absolutely what attracted me here."
Canadian creators and producers should also take note that Lennox's background is not a conventional one in Canadian TV. He didn't rise up the internal ranks like many execs, or come from a big U.S. broadcaster or media company. His background is in talent and business development, in the same-but-different creator-focused music business. And that, he argues, means he brings a different perspective to the table.
"I've always looked at the creator, not the creation. Being that, I look at the promise of the writer, the producer, the production company as much, if not more, as I look at the actual script. Although this script may not be 'the one,' maybe the people sitting in front of me are fabulous and I want to be in business with them."
When asked how this translates to a side of the industry that has been accused of working with the same production companies over and over again, he insists it's an idea that doesn't apply to his worldview.
"I have zero weight on experience and 100% weight on ideas and innovation. I think because of my background, someone who's made three films and they're 40 does not have more credibility than someone who walks in here at 22 with a great idea. Everything is seen with the same objectivity in my eyes."
He also argues that the recent rash of short-order TV series at Bell Media (and domestic broadcasters overall) is less about mitigating risk – as some broadcasters have framed it – and is more about meeting viewing tolerance, and keeping programming "A-plus."
"I look at every show and every showrunner as a relationship – we're never looking at it with intent for four or six," he says.
It's certainly one of the marked trends of the upfront: of Bell Media's five scripted orders for the 2016/2017 broadcast year, three – Cardinal, The Disappearance and Frontier – were ordered at six. And the shiny new jewel of its original comedy lineup, Russell Peters is the Indian Detective, was ordered to four. But Canadian nets are not the only ones going shorter – AMC took a cue from partner BBC and did its recent, star-studded The Night Manager series as a tight, masterful six-parter, consolidating previous years' trend of 10-episode premium series into an even smaller package. And it would be hard to argue that launching the fast-paced, dialogue-packed Letterkenny off as a six-ep miniseries was a bad idea.
The Russell Peters series, revealed the day before Bell Media's upfront and presented by Lennox and Peters at the event, was so clearly a point of pride for Lennox, that one could build a whole thesis about his programming approach from that five-minute presentation alone. But Lennox argues that there was no great strategy behind the Peters order.
"Some things aren't complicated" he enthuses. "I just think he's tremendously funny."