Bell Fund distributes $6.4M across 39 projects
Among the series and digital media projects receiving funding are CBC's Canada's Smartest Person and Comedy Network's upcoming The Beaverton (pictured).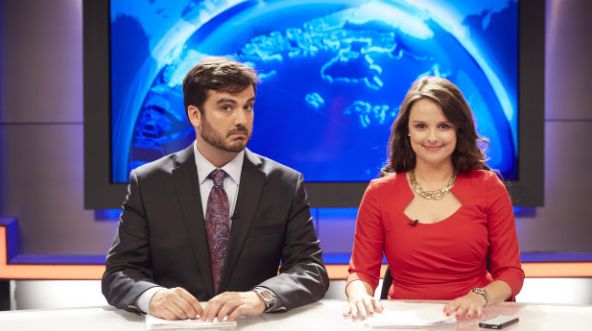 The Bell Fund has distributed $6.4 million across 39 broadcast and digital media projects, including season four of Space's Orphan Black from Temple Street Productions and Comedy Network's upcoming mock-news program The Beaverton from Pier 21 Films.
Orphan Black: Mind of a Clone, an app-based game in which users play clones who must navigate obstacles, was one of the digital media projects to receive funding, as was The Beaverton Digital, a website featuring original videos, podcasts and clips from the upcoming television series.
Other English-language broadcast and digi projects to receive funding from the fund's production program include Mercury Films' feature documentary Anthropocene (TMN, TVO); Little Engine Moving Pictures' Canada Crew (TVO); season three of Canada's Smartest Person (CBC), from Media Quarters Film & Television; Victory Arts Incorporated's Canadian Spirits (TVO, Knowledge, APTN); marblemedia's Driving Me Crazy (YTV); Ghost Patrol (Family Channel) from Eh-Okay Entertainment; Radical Sheep Production's Ollie: The Boy Who Became What He Ate (CBC); season six of The Bone Yard from Five in The Eye Productions (WildTV); season two of DHX Media Vancouver and Nerd Corps' The Deep (Disney XD); Paperny Entertainment's This is High School (CBC) and Thornwood Heights from Reel World Management (A&E Networks).
Jam3′s The National Arts Project for CBC's Documentary Channel received development funding as did Four Senses, from Toronto digital media company Innovate By Day.
On the French-language side, nine broadcast and corresponding digital media projects were awarded production grants. Season two of Trinôme Inc.'s 911 (V Tele) received funding, as did season 11 of Urbania's C'est juste de la TV (ICI ARTV), Trio Orange's Cochon Dingue (Télé-Québec), Zone 3′s Like-Moi II (Télé-Québec), Attraction Images' Lourd (Vrak TV, Super Ecran), Frima Studio's MaXi (TFO), and season three of Trinôme's SQ (TV5) and Trauma, also from Trinôme (TV5).
Dino Dan: Dino Dig, from Sinking Ship Entertainment, and Attraction Images's Lire V both received performance accelerator funding, while Pixcom's Shampooing, gloire et karaoké and Hazel House Productions' Sparkly Butt & The Hot Dog Kid both received TV development online funding.
The Bell Fund approved 39 of 60 funding applications.