Orphan Black, Schitt's Creek scribes win WGC awards
The Writers Guild also presented awards to writers behind A Christmas Horror Story, Some Assembly Required and others at Monday's ceremony.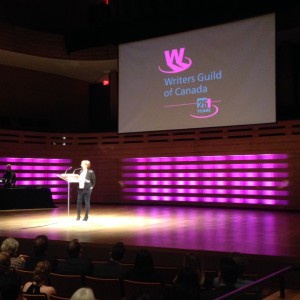 The scribes behind episodes of Orphan Black, Schitt's Creek, The Book of Negroes and Numb Chucks were among the winners at Monday night's 2016 Writers Guild of Canada (WGC) Screenwriting Awards.
Writers from feature film A Christmas Horror Story, documentary Deluged by Data, short film Goldfish and tween series Some Assembly Required also picked up prizes at the 20th edition of the awards ceremony.
On the night, Orphan Black episode "Newer Elements of Our Defense," written by Russ Cochrane, won best TV drama, while Schitt's Creek episode "The Cabin," penned by Amanda Walsh, won best TV comedy.
In the documentary category, Josh Freed took home the prize for his work on Deluged by Data, which aired on CBC's Doc Zone. Another CBC project, The Book of Negroes, won the prize for best MOW/miniseries, with Clement Virgo taking the prize for his writing on the show's first episode, which is based on the story by Lawrence Hill.
The feature film prize went to Copperheart Entertainment's A Christmas Horror Story, written by James Kee, Sarah Larsen, Doug Taylor and Pascal Trottier.
The Tweens & Teens category saw Jennica Harper claim the prize for her work on "Rocket with a Pocket" from season two of Thunderbird Films' Some Assembly Required. Evan Thaler Hickey meanwhile won the children's category for his writing on Numb Chucks episode "Witless to the Prosecution."
The prize for best writing in a short/webseries went to Michael Konyves for his work on short dramatic comedy Goldfish, which stars Paul Giamatti and Daniel Brochu.
Aside from the eight screenwriting prizes, the WGC also presented four special awards,  with Peter Mohan (showrunner on The Listener and executive producer on Lost Girl) receiving the Writers Block Award for his service to Canadian screenwriters, and Penny Gummerson receiving the Sondra Kelly Award for her project Forgive Me, Father. Elsewhere the Alex Barris Mentorship Award went to Clive Endersby, and the final award of the evening, the WGC Showrunner Award, was presented to Frank van Keeken (The Next Step, Lost & Found Music Studios).
The WGC is this year celebrating its 25 year anniversary and Monday's ceremony, held at Koerner Hall in Toronto, was hosted by comedian Elvira Kurt.