Hot Docs, Blue Ice, NYT Op-Docs team on African doc shorts fund
The fund will support a series of doc shorts from African filmmakers that will be showcased on the NYT's Emmy-awarded digital forum. (Pictured: Rama Thiaw's Whose Country?)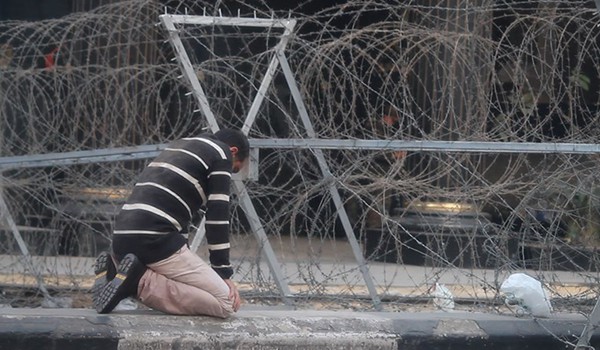 Hot Docs and financier Blue Ice Group have partnered with The New York Times' Op-Docs to commission a series of documentary shorts from African filmmakers to be showcased on the newspaper's Emmy-awarded digital forum.
The organizations will select five to eight projects over the next year from the films already submitted to the Hot Docs-Blue Ice Group Documentary Fund and Fund Alumni, as well as from those received in the 2017 round of disbursements.
Selected filmmakers will be commissioned to develop new documentary shorts inspired by the themes of their feature film, which will then be posted via the 'Op-Docs' website.
Launched in 2011, The New York Times' Op-Docs division is the news organization's forum for original short documentaries produced "with wide creative latitude and a range of artistic styles" broaching the current affairs, contemporary life and historical spaces.
The $1 million Hot Docs-Blue Ice Group Documentary Fund, which recently received an additional $1.25 million from the Blue Ice Group, was founded in 2011. It looks to provide backing to Africa-based filmmakers by sharing their stories and contributing to the professional development of the next generation of African documentarians.
To date, the fund has presented grants to 40 projects from 15 African countries amounting to $626,000. In January, the trust granted a total of $125,000 to eight winning projects selected from a pool of 94 submissions from across 25 African nations.
Grant recipients also receive support to attend the Hot Docs Festival where they will participate in a creative filmmakers' lab, attend screenings, conference sessions, the Hot Docs Forum and various networking events, as well as a year-round, peer-to-peer mentorship program.
Past recipients have included Riaan Hendricks' The Devil's Lair, a 2013 official selection at Hot Docs and IDFA; Nadine Salib's IDFA-awarded Mother of the Unborn; Jihan El-Tahri's TIFF-selected Nasser; Ryley Grunenwald's Hot Docs-selected The Shore Break; and Rama Thiaw's Berlinale-selected The Revolution Won't Be Televised and Whose Country? (pictured), which enjoys its world premiere at Hot Docs 2016.
"The New York Times' Op-Docs is dedicated to giving a platform to a diverse and global range of emerging and established filmmakers," said Kathleen Lingo, commissioning editor for opinion video at The New York Times in a statement. "We couldn't be happier to collaborate with the Hot Docs-Blue Ice Group Documentary Fund to present the work of African filmmakers."
"The Hot Docs-Blue Ice Group Documentary Fund has attracted hundreds of vital and compelling stories seeking support and we're thrilled to work with our partners to help filmmakers realize them in such a unique way," said Hot Docs industry programs director Elizabeth Radshaw in a statement. "Blue Ice Group's commitment to African filmmakers is outstanding, and there is no better platform than The New York Times Op-Docs to celebrate and share these voices with the world."
Elsewhere, Hot Docs has collaborated with the Panicaro Foundation to launch a new strand within its CrossCurrents Doc Fund.
The new CrossCurrents Doc Fund theatrical strand will look to provide financial support to one or multiple feature-length documentaries annually with grants of up to $30,000 per project up for grabs. The strand will also look to provide professional development opportunities for selected recipients.
While the theatrical strand is broad in scope, it will also seek to prioritize filmmakers aged 35 and younger within underrepresented and marginalized communities. Additionally, the fund will support filmmakers whose access to resources has limitations and whose films seek to make a disruptive impact.
The recipients will be chosen by a selection committee made up of representatives from the Panicaro Foundation, Hot Docs and the documentary production community the fund aims to serve.
Grantees will receive similar support as that seen by Hot Docs-Blue Ice Group Documentary Fund recipients. However, CrossCurrents Doc Fund theatrical grantees will not receive access to the Hot Docs-Blue Ice Group Filmmakers Lab, the Durban International Film Festival or the Durban FilmMart.
Applications will open in June 2016.
The original CrossCurrents Doc Fund, which was founded by R&M Lang Foundation in 2013, aims to foster short- and mid-length documentary filmmaking by emerging directors from within such communities, and encourage understanding of unheard voices among broad audiences. It has awarded $10,000 to one successful global applicant per year.
"We are grateful to the Panicaro Foundation for embracing this opportunity to support emerging filmmakers and bring diverse voices to our cinema screens," said Radshaw. "And we're delighted to expand our portfolio of production funds that are helping important stories from around the world be told."
From Realscreen