Deals: Bell Media, CBC, Corus, PNP
Bell Media has acquired six-part U.K. drama The Aliens (pictured) for Space, plus more deals of the week.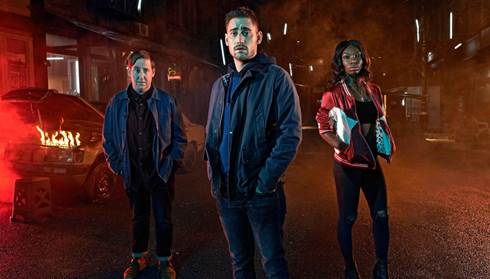 Bell Media
Bell Media's Space has acquired the exclusive Canadian rights to six-part U.K. sci-fi thriller The Aliens. The hour-long show is produced by London, England-based Clerkenwell Films and will air on Space on Wednesday, May 4 at 9 p.m. The Aliens, which stars Michael Socha (Being Human), Michaela Coel (Chewing Gum) and Jim Howick (Peep Show) picks up 40 years after an alien race crash-lands on earth. Each episode of the show will become available on space.ca following its broadcast transmission.
Seeso
Comedy-content streamer Seeso has acquired documentary The Pistol Shrimps, produced by Vancouver-based Hodgee Films and New York's Warrior Poets Productions. The doc made its world premiere at the 2016 Tribeca Film Festival and has gone straight to SVOD.  Pistol Shrimps is directed by Brent Hodge (I Am Chris Farley) and executive directed by Morgan Spurlock, who previously teamed together on The Brony Tale. Following a female basketball team dubbed The Pistol Shrimps, the doc charts the off-and-on-court lives of its team members, which include actress Aubrey Plaza (Parks and Recreation), model Melissa Stern and actress/writer Maria Blasucci (Ghost Ghirls).
CBC
The CBC has acquired a pair of documentaries – David Beckham: For the Love of the Game (1 x 90 minutes) and Our Queen at 90 (1 x 90 minutes) – from BBC Worldwide North America. The first, For the Love of the Game, is produced by A 7 Games and Big Earth for CBC and will air at 9 p.m., Sunday, April 17 on CBC's documentary channel. The doc follows Beckham as he attempts to play a soccer match on seven continents before returning to the U.K. to participate in a UNICEF fundraising match. Our Queen at 90 meanwhile will air at 10 p.m., Sunday, April 24 on CBC News Network's Passionate Eye Strand, as well as on CBC's main network at 8 p.m, Sunday, May 8. The documentary is produced by London, U.K.-based Oxford Film & Television for broadcaster ITV.
Corus Entertainment
Corus Entertainment has inked a content deal with Netflix for a mix of exclusive and non-exclusive streaming rights to Nickelodeon content in Canada. Read more here. In other Corus news from this week, the company announced that it has sold the broadcast rights to Masters of Flip and Buying the View into various international territories. The deals mean that the shows have now been sold into 45 international territories combined. Read more here.
Pacific Northwest Pictures
Vancouver-based distributor Pacific Northwest Pictures (PNP) has picked up the Canadian rights to French-language film LOLO, a romantic comedy written and directed by Julie Delpy. Read more here.