Why CMF, Telefilm are going all in on VR at MIPTV
As more VR products begin to hit the global market, the funders want to put Canada on the world stage.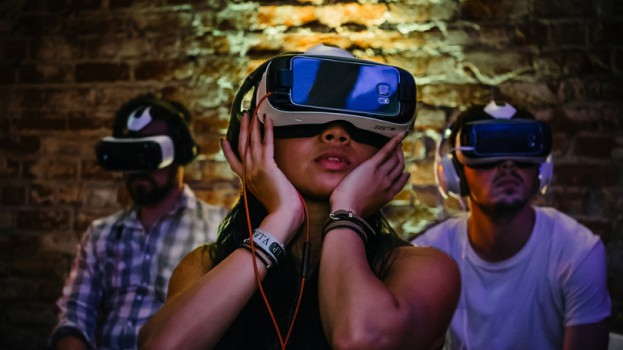 The objective behind Telefilm and the Canada Media Fund's decision to focus so heavily on virtual reality at this year's MIPTV was simple: showcase the best of Canadian VR at a time when the medium is finally (maybe) taking off.
Though VR as an industry has experienced many false dawns, the medium now seems poised to have a mainstream presence. The Quebec Film and Television Council (QFTC) estimates that the combined industries for virtual reality and augmented reality will grow globally to $120 billion (USD) by 2020. And there's no question the technology is the darling of the media right now, consumer, tech and trade alike.
Given the hype, CMF and Telefilm wanted to put VR front and centre at this year's MIPTV, with Valerie Creighton, president and CEO, CMF, calling it a "good time to introduce the Canadian sector and its successes." The three projects chosen to represent the diversity of Canadian VR are Minority Media's Time Machine VR, the National Film Board's The Unknown Photographer and Toronto-based Deep's Liquid Cinema. 
Aside from simply providing a platform for Canadian VR projects, the initiative is designed to trigger conversations and partnerships that might propel Canada's VR industry forward. "One of the objectives is to connect our VR producers with TV producers to see what kind of synergies there might be," said Creighton.
Coupled with the desire to tell great stories is the need to showcase projects with commercial appeal, said Florence Moureaux, Telefilm Canada's interim director, national and international business development. "To us, a main objective is to ensure that commercially viable projects have as much visibility as possible on the international scene, so that it creates business for [Canadian producers of VR]," she said.
As such, the three featured projects reflect a range of VR work from some of the country's foremost creators: Time Machine is an immersive time-travelling experience which allows users to interact with primordial sea creatures; Deep's Liquid Cinema is a new software which enables the creation and distribution of highly sophisticated immersive 360 VR based cinema experiences; and Unknown Photographer takes users through a series of chaotic war memories, triggered by a series of photographs.
"I think for digital we're certainly ahead of the curve," Creighton told Playback Daily, adding that the up-and-coming nature of VR also makes now an advantageous time for Canada to promote its homegrown VR talent. "The potential and possibilities for VR are really beyond imagination at the moment, so I think it's a good year and a good time to highlight Canada and the talent in Canada in VR."
MIPTV runs from April 4 to 7 in Cannes, France.