Jus Reign selected for Sundance-YouTube program
The Toronto-based YouTube star will participate in the inaugural Sundance Institute-YouTube Creators Intensive.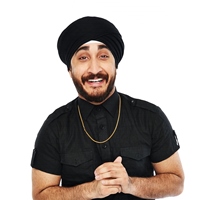 Toronto-based YouTube star Jus Reign (Jasmeet Singh) has been selected to participate in the inaugural Sundance Institute | YouTube Creators Intensive.
The two-part program will see Jus Reign participate in labs at the 2016 Sundance Film Festival (Jan. 21 to Jan. 31) in Utah, followed by a three-day workshop at YouTube Space LA starting at the end of March.
The program aims to help the creators to develop series and films. Participants are also eligible for a first-look deal with YouTube Originals after they complete the program.
Along with Jus Reign, other YouTube creators to participate in the program are Anna Akana, The Gregory Brothers, Devin Graham of DevinSupertramp, Allison Raskin and Gaby Dunn of Just Between Us, Yulin Kuang of Yulin of YulinIsWorking, Nikki Limo,  Franchesca Ramsey and Adande Thorne, aka sWooZie.
Elsewhere, Canadian YouTube star Lilly Singh will participate in a YouTube Red Originals showcase and panel at the Sundance Film Festival, to speak about her upcoming film A Trip to Unicorn Island. The project will debut exclusively on YouTube Red in early February.
Jus Reign was one of the first creators to sign onto Much Music's MCN, Much Digital Studios, and was named one of Playback's 5 to Watch in 2015. His YouTube channel currently has over 665,000 subscribers.