La Guerre des Tuques 3D opens to 760K B.O.
The film opened wide in Quebec and on a handful of screens outside the province.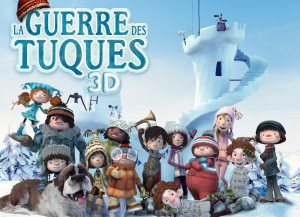 CarpeDiem Film and TV's La Guerre des Tuques 3D (entitled Snowtime! in English Canada) got off to a flying start at the Canadian box office last week, taking $761,433 in its first four days.
The $12 million animated feature debuted across 94 screens in Quebec, three in New Brunswick and two in Ontario, meaning that it drew a bigger box office than Disney's Frozen ($613K) after its first weekend in Quebec in November 2013.
Les Films Seville compared La Guerre's opening to 2010′s Lance et compte, which took $683,906 for its opening weekend when it opened in 2010. Both films were based on beloved Quebec stories with wide audience appeal.
La Guerre is produced by CarpeDiem in association with animators Studio Singing Frog. Distributed in Canada by Les Films Seville/eOne, the film stars Sophie Cadieux, Anne Casabonne, Hélène Bourgeois Leclerc, Catherine Trudeau, Gildor Roy and André Sauvé.
It also features key partnerships, with a soundtrack song from Celine Dion and promotional sponsorship from milk brand Natrel. 

A remake of the Quebec cinema classic of the same name, La Guerre is directed by Jean-François Pouliot (Seducing Dr. Lewis), in collaboration with François Brisson. The film centres around a long-lasting snowball fight between two gangs from opposing neighbourhoods.
A date has not yet been set for the film's wide theatrical release outside of Quebec.