WFF names Aboriginal Filmmaker Fellowship participants
Six filmmakers, including Allan Hopkins and Phoebe Sutherland, will take part in the three-day business and creative immersion program at the December festival.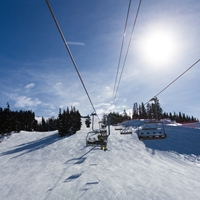 Whistler Film Festival has named the six filmmakers selected for its Aboriginal Filmmaker Fellowship, which takes place at the festival in December.
The six participants – each bringing with them either a short film, webisode project or television pilot – are: B.C.'s Allan Hopkins with Indian Road Trip, Saskatchewan's Paul Swiderski with Killing the Dead, Ontario's Phoebe Sutherland with Rez Dog Team, Quebec's Roxanne Whitebean with The Paradigm, Manitoba's JJ Neepin with The Quiet Corner and B.C.'s Mary Galloway with Unintentional Mother.
The fellowship is a three-day business and creative immersion program, held Dec. 3 to 5, led by program facilitator and mentor N. Bird Runningwater, who also serves as Sundance Institute's Native American and Indigenous film program director. The program aims to advance Canadian aboriginal talent by coordinating feedback from industry mentors and experts on short scrip projects.
Other mentors participating in the program include Jim Compton, artistic director of the Adam Beach Film Institute, actor Lorne Cardinal, director Monique Hurteau, writer and producer Laura Milliken and National Screen Institute  writer and facilitator Shereen Jerrett.
Along with the mentors, other industry experts participating in the program include Canada Media Fund president and CEO Valerie Creighton, APTN's executive director of programming and scheduling Monika Ille, APTN manager of programming for the western region Tania Koenig-Gauchier and producer Elizabeth Yake.
The fellowship is sponsored by the Canadian Media Fund, Aboriginal Peoples Television Network, Creative BC, National Screen Institute and the Squamish Lil'wat Cultural Centre.
Image courtesy of Shutterstock