Coming Soon: Remember
eOne's Frank Mendicino and Darlene Hotton on the marketing and distribution plan for Atom Egoyan's Remember, opening in 36 theatres across Canada today.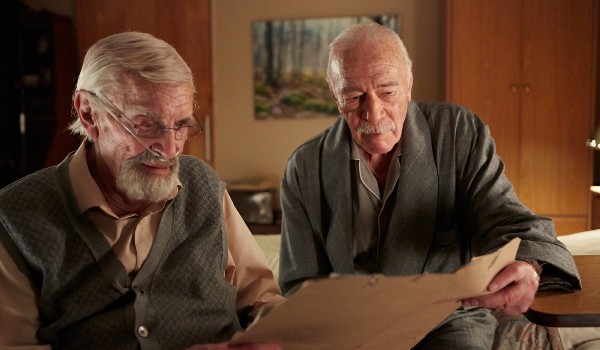 Coming Soon, an ongoing editorial series from Playback, outlines the theatrical distribution strategy for upcoming Canadian releases. Here, we speak with Entertainment One's Darlene Hotton and Frank Mendicino about the strategy behind Atom Egoyan's Remember. 
The film: Remember follows the story of Zev, a nursing home resident suffering from memory loss who sets out on a journey to avenge the death of his loves ones, following a set of instructions given to him by a man named Max. Remember stars Christopher Plummer, Martin Landau, Dean Norris, Bruno Ganz, Jurgen Prochnow and Heinz Lieven.
Production/distribution credits: Remember is directed by Atom Egoyan and written by Benjamin August. The film is produced by Serendipity Point Films in association with Detalle, Telefilm Canada, Distant Horizon and Egoli Tossell. Other executive producers on the project include Jeff Sagansky, Moises Cosio, Mike Porter, D. Matt Geller and Larry Guterman. Jens Meurer serves as coproducer.
The film is distributed by Entertainment One in Canada, ARP in France and Videovision Entertainment in South Africa. A24 holds the U.S. distribution rights to Remember. The film had its North America bow at this year's Toronto International Film Festival, its world premier at Venice and, announced yesterday, will have its Mexican premiere at the upcoming Los Cabos International Film Festival.
Theatrical distribution: Remember is opening on Oct. 23 in 36 theatres across Canada. The screens will mostly be in Cineplex theatres, along with some Landmark cinemas and independent theatres in Quebec. eOne is focusing heavily on the major urban markets of Toronto, Vancouver and Montreal, in addition to key runs in Calgary, Edmonton, Victoria, Winnipeg, Ottawa and Halifax. Remember will also have exclusive runs in some smaller southern Ontario markets, such as Waterloo, Kingston, Hamilton, Windsor and London.
In the past, eOne has often focused on major markets to release films that screened at TIFF, with a focus on larger theatres to help the film reach the largest audience possible, said Darlene Hotton, SVP theatrical sales at eOne. The timing of the release was also meant to capitalize on festival buzz for Remember, which has also screened in a number of other festivals outside of TIFF, such as the Vancouver International Film Festival and the Atlantic Film Festival.
Marketing/promotion: The marketing campaign for Remember started in April, when eOne decided to place the trailer in front of Woman in Gold, said Frank Mendicino, SVP of marketing for eOne. "It was really important to get a trailer locked for Woman in Gold, because that was the perfect audience to launch the campaign," Mendicino said, noting that film attracted an adult, sophisticated audience that would also be drawn to a film like Remember. Soon afterwards, eOne placed the trailer and poster throughout the Canadian market, and revved up the social media marketing with a focus on Facebook ahead of the film's bow at TIFF.
On the Sunday leading up to the theatrical release, eOne brought a number of TV ads to air during programs Mendinico characterized as "smart TV," such as The Good Wife, 60 Minutes and Madame Secretary. eOne also bought a number of TV ads to run during this week's election coverage on Monday evening. During opening week, eOne will continue to run TV and print ads to promote the film, along with a big newspaper ad buy for opening day. Overall, the marketing campaign aims to take advantage of Christopher Plummer's star power by putting him front-and-centre, as well as play up other talent in the film such as Martin Landau, Mendicino said.
Target audience: The target demo for the film is men and women over 35, who look for movies with strong and compelling storylines, Mendicino said. He pointed to films such as Woman in Gold and Mr. Holmes as films that would attract audiences Remember would also appeal to (eOne also ran the Remember trailer in front of Mr. Holmes).
What makes this film unique? Remember is shot and told in such a way that viewers feel like they are on every step of the journey with Zev, said Hotton, and the outcome of the story could change at any moment. "Anything that could happen to this guy is a possibility and could completely change the tone of the film," Hotton said.
Budget/financing: The budget for the film was approximately $13 million, and received financing from the Northern Ontario Heritage Fund, Telefilm Canada and various tax credits.