WIFT-T names 2015 Crystal Awards winners
First Generation Films' Christina Piovesan (pictured) and Accent Entertainment's Susan Cavan are among those recognized for their contributions to TV, film and digital media.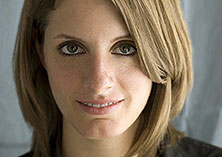 Women in Film & Television – Toronto (WIFT-T) has announced the winners of its Crystal Awards, with the prizes set to be presented at an awards gala on Dec. 1.
Five prizes were given in total, with each being awarded for the winner's contributions to the TV, film and digital media sectors.
First Generation Films founder and president Christina Piovesan (pictured right) was the recipient of the Creative Excellence Award. Her portfolio includes Life, a film about a photographer assigned to take pictures of James Dean, from director Anton Corbijn, as well as Regression, which stars Ethan Hawke and Emma Watson and was directed by Alejandro Amenabar.
Portfolio Entertainment's CEOs and co-founders Lisa Olfman and Joy Rosen won the Outstanding Achievement in Business Award. The company, which recently opened a 9,000 square-foot animation studio in Toronto, has a slate which includes The Cat in the Hat Knows A Lot About That!, DOKI and Freaktown.
The Special Jury Award of Distinction was won by Accent Entertainment president Susan Cavan, whose production credits include Sarah Polley's Take This Waltz and Bruce McCulloch's Young Drunk Punk and Death Comes To Town. In her previous job roles Cavan has served as VP of business and legal affairs for Cineplex Corporation, as well as a founding partner and president of Alliance Communications.
Lucie Lalumière, COO and GM of Toronto-based Supersonic MINDS, picked up the Digital Traiblazer Award for her work in interactive digital media. In addition to Supersonic MINDS, Lalumière has previously served as Radio-Canada's executive director of new media, MediaLinx Sympatico's GM of the French Market, and Corus Entertainment's VP and GM of interactive.
The Mentorship Award was won by Ken Dhaliwal, who is a partner at law firm Dentons LLP's Toronto office. Dhaliwal practices mainly in film, television and digital media industries, with an expertise in structuring productions to maximize the benefits of international incentives, treaty co-productions and co-ventures when combined with Canadian incentives.
The Crystal Awards jury consisted of producer Silva Basmajian, Insight Productions president and COO Barbara Bowlby, Elevation Pictures co-president Laurie May and Digital Wizards president Diane Williamson.