Deals: Sinking Ship, Picture Box, Portfolio, Tricon
Sinking Ship has sold Odd Squad (pictured), Chirp and Playdate into multiple territories, plus more pre-MIPCOM deals.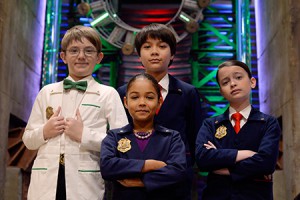 Sinking Ship Entertainment
Sinking Ship has secured deals for three of its properties into multiple territories. Odd Squad, was sold to Hessischer Rundfunk & KiKA (Germany and German Speaking Europe), Discovery Kids Latin America, and Roadshow Films for DVD release in Australia. The 2D animated series Chirp (52 x 11 minutes) will air on Tiny Pop (U.K.) and Jim Jam Television in Pan Europe, Middle East, Russia and Africa. Discovery Kids Latin America, Tiny Pop (UK) and ABC KIDS (Australia) meanwhile have acquired the rights to live-action puppet series Playdate.
Picture Box Entertainment
Picture box has acquired the rights to 50 x 23-minute live-action series Which Monster Bit You?  from Brazilian producers SESI-SP. The show, which is produced for TV Cultura Brazil, was created by writer/director Cao Hamburger and Teodoro Poppovic. It is currently set to premiere on Discovery Kids Latin America in October.
Portfolio Entertainment
Portfolio Entertainment has sold two titles from its animated preschool slate - The Cat in the Hat Knows A Lot About That! (40 x 30 minutes) and Doki! (26 x 30 minutes) - into a number of territories in Asia and the Pacific Rim. The Cat in the Hat  was picked up by iFlix through Vision Plus for both Thailand and the Philippine. Season one of Doki! was picked up by Discovery Networks Asia-Pacific for the Pacific Rim including Australia and New Zealand. The second season of Doki! was acquired by Mediacorp in Singapore and EBS in South Korea.
Incendo
Montreal-based producer and distributor Incendo has announced four new distribution agreements with Gravitas Ventures, Banijay International, Big Media and Foothill Entertainment. The new partnerships will see Incendo acquiring the Canadian rights to shows such as the Amazon comedy Addicted to Fresno, Jersey Shore follow up The Sorrentinos, as well as animations Eddie & The Bear and Spike Team and documentary Atari: Game Over.
Tricon
Tricon Kids & Family has closed a number of deals ahead of this weekend's MIPJunior market. Animated series Wildernuts (26 x 7 minutes) was picked up by CSC U.K., while Zoo Clues (26 x 30 minutes) was acquired by Turkuvaz Media Group Turkey, MBC Middle East, Irib Iran, TVB Hong Kong, and Noga Israel. Irib Iran also picked up the rights to On the Spot (45 x 30 miuntes). Elsewhere, GEE Qatar Airways took Awesome Adventures (20 x 30 minutes) and OBI Royal Jet UAE picked up Grass Roots Racing TV (44 x 30 minutes). New series added to Tricon's slate it will be shopping at MIPJunior include Counterfeit Cat (52 x 11 minutes), Shutterbugs (52 x 11 minutes), React to That (12 x 30 minutes), Fluffy Gardens (80 x 7 minutes), Summer Beach Bash II (1 x 60 minutes), Aqua Kids (76 x 30 minutes) and Curiosity Quest (100 x 30 minutes).
Oasis Animation
Montreal-based Oasis Animation has announced an agreement with WGBH Educational Foundation that will see the animation co handle pre-production, animation and post-production on 14 new 30-minute episodes of Arthur (seasons 20 an 21) which are due to air on PBS in 2016. Production on the episodes began in Montreal on Sept. 9.
eOne
Entertainment One has sold the U.S. broadcast rights for The Enfield Haunting to A&E, with the three-part drama set to on the channel on Oct. 9 at 10 p.m. The show, based on a poltergeist incident which took place in London in 1977, is produced by London-based production company Eleven and was adapted from Guy Lyon Playfair's book This House is Haunted.