Production underway on Benoit Pilon's Iqaluit
The $4.5 million feature is a Quebec/Nunavut coproduction from writer/director Benoit Pilon (pictured left, with star Natar Ungalaaq).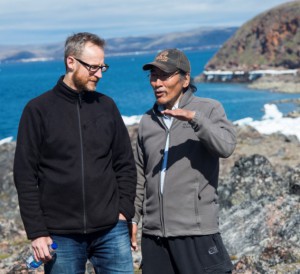 Filming is underway on Iqaluit, a Quebec/Nunavut coproduction from writer/director Benoit Pilon (The Necessities of Life).
The film is produced by Bernadette Payeur, Robert Lacerte and Marc Daigle for Quebec's ACPAV Corporation (Quebec's audiovisual production cooperative, based in Montreal) and Charlotte Dewolff for Nunavut's Piksuk Media. Iqaluit's $4.5 million budget received financing from SODEC, Telefilm Canada, Bell Media's Harold Greenberg Fund, as well as federal and provincial tax credits.
Shooting will take place in various locations throughout the city of Iqaluit, with production set to wrap on Sept. 29.
ACPAV's Lacerte said the main challenge with producing a film in Iqaluit was transporting the prodco's equipment – 10 tons in total – from Montreal by plane. With everything now safely moved, Lacerte said he expects the rest of production to go smoothly.
Iqaluit stars Marie-Josée Croze, Natar Ungalaaq, Paul Nutarariaq, Christine Tootoo, François Papineau and Sébastien Huberdeau. The film follows the journey of Carmen (played by Croze), as she travels to Iqaluit to look after her seriously injured husband and find answers about how he came to be hurt. While searching for answers she strikes up an unlikely friendship with Noah (played by Ungalaaq).
Entertainment One's Seville Films will be distributing the film in Canada, with a theatrical release currently set for fall 2016. Seville International will represent the film in the U.S. and abroad.