TIFF '15: The Steps, The Witch added to lineup
The festival also revealed its closing night film and its spotlight city for the seventh annual City to City program. (The Witch pictured.)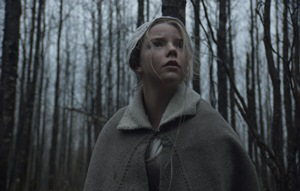 Andrew Currie's The Steps will get its world premiere in the Toronto International Film Festival's Contemporary World Cinema program while The Witch, a USA/Canada copro from director Robert Eggers, will get its Canadian bow in a special presentation, the festival announced Tuesday.
Shemi Zarhin's The Kind Words (Hamilim Hatovot), an Israel/Canada coproduction, will also screen in the world cinema program along with Currie's The Steps. Other Canadian selections added to the festival's lineup on Tuesday included David K. Ross' Theodolitique, John Creson and Adam Rosen's UNcirCling and Office Space Modulation from Janis Demkiw, Emily Hogg and Olia Mischenko, all of which will screen in various short film programs as part of the larger Wavelengths program. Canadian copros added to the Wavelengths shorts programs include Fugue, a Canada/Germany coproduction from Kerstin Schroedinger, Blake Williams' Something Horizontal (Canada/USA), Kuh Parastoo Anoushahpour, Faraz Anoushahpour and Ryan Ferko's Bunte (Canada/Germany) and Mary Helena Clark's Palms (Canada/USA).
TIFF also announced additional foreign films to screen in gala presentations in the festival, including the world premiere of Catherine Hardwicke's Miss You Already (U.K.) and Paco Cabezas' Mr. Right (USA), which was selected as the closing night film. World bows in the special presentations program include Gaby Dellal's About Ray (USA), Pan Nalin's Angry Indian Goddess (India), Rob Reiner's Being Charlie (USA), Marc Abraham's I Saw The Light (USA), Matthew Cullen's London Fields (U.K./USA) and James Vanderbilt's Truth (USA).
The festival also announced it would spotlight eight features from London, England as part of its annual City to City program. Films set to have their world bows in the program include Tom Geens' Couple in a Hole (U.K./Belgium/France),  George Amponsah's The Hard Stop (U.K.), David Farr's The Ones Below (U.K.) and Michael Caton-Jones' Urban Hymn (U.K.).
The 40th edition of TIFF runs from Sept. 10 to Sept. 20.