Syfy cancels Haven
The U.S. net has pulled the plug on the series after five seasons.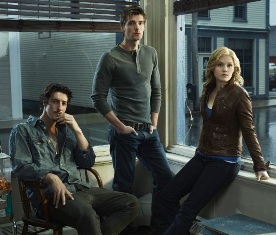 U.S. net Syfy has cancelled Haven after five seasons.
The sci-fi series was shot in Halifax, Nova Scotia, with Entertainment One, Big Motion Pictures and Pillar/Segan/Shepherd producing. The fifth season order for the sci-fi series, made in January 2014, included 26 episodes. The second half of Haven is set to bow on Oct. 8 on the U.S. net.
Haven airs in Canada on Shaw Media's Showcase specialty and internationally over Universal Networks International's Syfy channels.
The series, which follows a former FBI agent now working as a cop in a small town in Maine, stars Emily Rose, Lucas Bryant and Eric Balfour. It was based on the Stephen King novella The Colorado Kid.
Executive producers on Haven are John Morayniss, David MacLeod, Lloyd Segan, Shawn Piller, Scott Shepherd, Matt McGuinness and Gabrielle Stanton.