Coming Soon: Diamond Tongues
Filmmaker Pavan Moondi discusses the distribution strategy behind the upcoming release of dramatic comedy Diamond Tongues.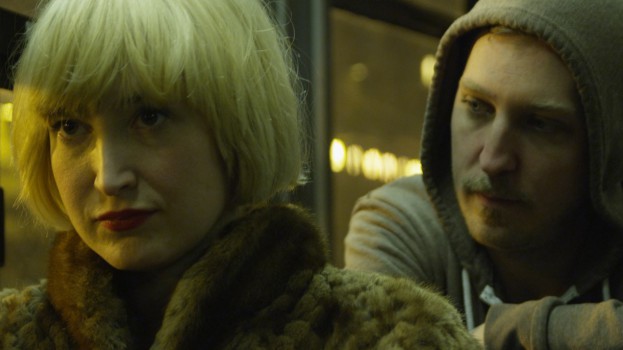 Coming Soon, an ongoing editorial feature from Playback, highlights distribution strategies for soon-to-be released Canadian films. Here, we speak to writer/director/producer Pavan Moondi about the distribution strategy for Diamond Tongues. 

The film: Diamond Tongues is a dramatic comedy about Edith Welland, an aspiring actress who can't get the break she's looking for. When her ex-boyfriend tries his hand at acting and immediately lands a leading role, Welland tries to figure out where she's going wrong. Only when she starts trying to figure this out, though, do things start to go truly wrong.
Production/distribution credits: Diamond Tongues is co-written and co-directed by Pavan Moondi and Brian Robertson, and is produced by Draper Street Films, Daylight On Mars Pictures, Riddle Films, Scythia Films and Serendipity Point Films. Ari Lantos, Mark Musselman, Brendan Canning, Sarah Haywood, Daniel Bekerman, Jason Charters and Liam Romalis are executive producers on the feature, with Moondi, Robertson and Haywood serving as producers.
Canadian theatrical distribution is being handled by Mongrel Media.  Moondi and Robertson, however, are taking the lead on publicity and promotional strategy to keep costs down as any marketing expenses would be deducted from the film's revenue by the distributor as per standard practice. The pair also have experience in this field after they spearheaded the theatrical release and promotional strategy for their previous feature, Everyday Is Like Sunday. Factory 25 holds the U.S. theatrical rights.
Distribution: Diamond Tongues will start its theatrical run at Toronto's TIFF Bell Lightbox from Aug. 7 to 13. Based on its performance during this run, the film's producers hope to add other cities, festival screenings and one-offs in the near future. Diamond Tongues is very much a Toronto film, with many ties to the city, said Moondi. For example, lead actress Leah Fay Goldstein and cinematographer Peter Dreimanis are also members of Toronto alt-rock band July Talk, and the film's exec producer and music composer Brendan Canning is a founding member of Broken Social Scene.
"With this in mind, we [producer Sarah Haywood, co-director Brian Robertson, and Moondi] were focused on launching the film theatrically in Toronto to ensure press coverage in the major national papers. For Diamond Tongues, we set out from the get-go to get the film programmed at the TIFF Bell Lightbox. The Lightbox has a reputation for curating its programming and we thought that would benefit the film and draw people in to see it who otherwise may not hear about it," said Moondi. The film will also close Toronto's Open Roof Festival on Aug. 19.
Mongrel deliberately avoided a day-and-date release so the film might screen in other cities theatrically via festivals and one-offs. Additionally, Diamond Tongues' theatrical release in the U.S. is planned to coincide with its digital release in Canada. The purpose of this is to use the publicity from the U.S. theatrical release to serve as a reminder to Canadians of the film's digital availability. No date has yet been set for the digital release in the U.S.

Marketing: The producers are foregoing traditional ad buys or postering to promote the theatrical release of the film, instead focusing solely on social media. The film's Facebook page was set up in March 2014, and since then has been used to share press coverage generated by the film (in the Toronto Star, Exclaim, Indiewire, National Post), as well as to announce the release of artwork, festival dates and ticket availability, trailers and premiere dates. Additionally, film ticket giveaways will be offered through Facebook and Twitter in the build up to the theatrical release at the TIFF Bell Lighbox. A sneak preview also took place at at the NXNE Hub Loft space on June 21st.
Additional windows: The digital and VOD release of the film is being handled by Mongrel Media, with an iTunes launch tentatively scheduled for late October. All additional windows are still being negotiated.
Target Audience: The movie's target audience is people in their 20s and 30s who are interested in indie film, indie music and alternative comedy. Through the film's association with Toronto band July Talk, Broken Social Scene's Brendan Canning, and comedian and musician Nick Flanagan, Diamond Tongues will also seek to find an audience beyond that of traditional movie goers. "Though we certainly hope to find support among fans of Canadian cinema, we're trying to access an audience that typically doesn't pay close attention to Canadian film, but might pay attention to Canadian music and comedy," said Moondi.  
What makes this film unique: Moondi describes the film as "simultaneously breezy and dark, with equal parts idiosyncratic humour and character-driven drama," and said that whether a person connects with the film or not, there's no denying it has a unique feeling and rhythm. "The film has an unconventional narrative structure and deliberately skirts some narrative conventions that might be expected in a film about a struggling actress," he said.  
The film was shot over nine days by an eight-person crew, who drove around Toronto in the July Talk band van. The shoot was sponsored by Grolsch, who provided beer for the crew. In return, Grolsch received product placement and is the only beer to feature in the film. Moondi said most days involved 16-hour shoots, followed by six-hour parties and two hours of sleep. "It was a fun shoot, staffed mostly by people without a lot of experience at the time, where, only due to a collective boundless enthusiasm for what we were doing,  did things seemingly always work out for us… I think that energy found its way on screen," Moondi said.
Financing: Diamond Tongues'  $250,000 budget was financed privately with investments from Draper Street Films, Serendipity Point Films, Scythia Films and Riddle Films. Telefilm Canada also provided some financing as part of the organization's post-production completion program. In terms of curbing costs, the production also received support in the form of heavily discounted services via Deluxe Toronto and Alter Ego Post, as well as donated and discounted music from a variety of different recording artists, which were negotiated by producer/music supervisor Sarah Haywood.