Cameras roll on Incendo's Swept Under
Production on the TV movie kicked off in late April. (Aaron Ashmore pictured.)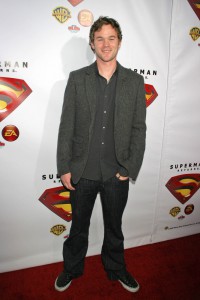 Production is underway in Montreal on Incendo Productions' latest TV movie, Swept Under, which will air on Bell Media's The Movie Network and Super Ecran later this year.
Swept Under follows the unlikely duo of a crime scene cleaner and a rookie detective as they pair up to solve a series of related murders. Devin Kelley (The Chernobyl Diaries) and Aaron Ashmore (I Put A Hit on You), star in the film, which is directed by Michel Poulette.
"We look to find someone who has international visibility, but more importantly, they need to pop onscreen," Ian Whitehead, head of production and development at Incendo Pictures and producer on Swept Under, told Playback Daily.
Whitehead says he has long been fascinated by crime scene cleaners – not just the technical aspects of the job, but also its emotional side.
"The scene of a crime can be a horrific thing – and these cleaners come and try to bring everything back to normal, at least visually. So James Phillips and Doug Barber wrote a powerful script based on our discussions," Whitehead said. "What insight might they have after cleaning so many scenes? What could they tell us about human nature? What if they committed the crime? It was a world that had a lot of potential as a thriller."
The film will be shot on location in Montreal over the course of 16 days. Incendo is handling international distribution for the film and it was financed through a licence fee from Bell Media, tax credits and an advance on foreign sales (through the company's distribution arm).
The film is being produced by Incendo with the participation of Bell Media; Jean Bureau and White are producers for Incendo.  Swept Under has also landed pre-sale deals in a number of other countries, including France and Spain.
Photo: s_bukley / Shutterstock.com