Deals: Cream Productions, 9 Story, Blue Ice
Production on season three of Wild Things with Dominic Monaghan is underway, and more deals of the week. (Wild Things pictured.)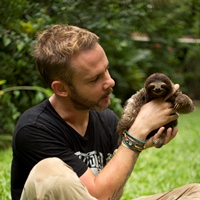 Cream Productions
Rights to all three seasons of Emmy- and Canadian Screen Award-nominated OLN original series Wild Things with Dominic Monaghan have been acquired by Travel Channel in the U.S. Previously, the show aired in the U.S. on BBC America. Production on a third season of the series, from Toronto-based Cream Productions and U.K.-based Wildfire Productions, is currently underway.
Wild Things with Dominic Monaghan follows host Monaghan as he and his cameraman, Frank, travel around the world pursuing interactions with rare and deadly animals. Some upcoming locations for the third season include Ethiopia, Madagascar and Palau. An air date for Wild Things with Dominic Monaghan has yet to be announced.
The second season of the show was also recently nominated for a 2015 Rockie award.
9 Story Media 
9 Story Media Group has secured new broadcasting deals with Discovery Kids Asia Pacific for popular animated adventure-comedy Wild Kratts and two live-action children's series. The network has snapped up the new fourth season (26 x 22 minutes) of Wild Kratts, along with renewing season one of the series created by real-life brothers and zoologists, Martin and Chris Kratt.
Since making its debut on PBS KIDS in the U.S. and on TVO, Knowledge Network and Télé-Quebec in Canada in 2011, Wild Kratts has been picked up by numerous broadcasters including Discovery Kids (Latin America), Super RTL (Germany), France Télévisions (France), RTE (Ireland), Minimax (Eastern Europe), Al Jazeera Children's Channel (Middle East) and Noga, (Israel).
Discovery Kids has also licensed season one of Apartment 11′s science-based live-actioner Finding Stuff Out (16 x 22 minutes) for Asia Pacific, as well as seasons one and two of 28 x 22-minute reality show Survive This for broadcast in Southeast Asia and Hong Kong.
Blue Ice Docs 
Blue Ice Docs has acquired the Canadian rights two film screening at the festival: Canadian director Mia Donovan's Deprogrammed, which is having a world premiere, and Heddy Honigmann's Around the World in 50 Concerts, from The Netherlands and having its Canadian premiere in Toronto. Read more about the deal here.
- with files from Jeremy Dickson, Kidscreen