How Caramel Films and Mednick Productions arrived at Devil's Gate
Production on the Canada/U.S. copro will soon be underway in Winnipeg, marking the third collaboration between the two producers. (Director Clay Staub pictured.)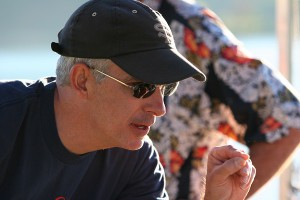 Production on the Canada/U.S. copro Devil's Gate is set to start in Winnipeg on April 27, marking the third time Montreal-based Caramel Films producer André Rouleau and U.S.-based Mednick Productions' Scott Mednick have collaborated on a project.
Previous titles the duo have worked together on include Dreamworks' Delivery Man (an adaptation of the Canadian film Starbuck) and the Manitoba-shot Wait Till Helen Comes. Working on the two projects sparked a friendship between the two producers, which prompted them to work together on bringing Devil's Gate to life.

"After the good experience with Wait Till Helen Comes in Manitoba, we decided to move ahead and produce Devil's Gate. There's not many independent movies in [the sci-fi] genre," Rouleau told Playback Daily.
The film, which will be VFX and SFX heavy, was financed privately and with the assistance of Manitoba tax credits. The project has a budget of just over $10 million, and while Rouleau admits it's modest compared to mid-budgeted American productions, it's enough to make the film they want to make.
"The budget is enough to put quality into the production. This kind of film needs top VFX, SFX and animatronic effects," he said.
A suspense-thriller, Devil's Gate takes place in the small town of Devil's Gate, North Dakota where the FBI is called in to investigate the disappearance of a woman and her son, but soon discover nothing is as it seems.
Rouleau says the quality of the film's script helped secure a raft of billable talent, including Amanda Schull, Milo Ventimiglia, Shawn Ashmore, Bridget Regan and Jonathan Frakes. Devil's Gate was written by Peter Aperlo and Clay Staub, who also directs the film.
"It's intelligent, it makes sense, and although it's not gory there's going to be a lot of tension and it's original," Rouleau says of the script. "We don't see these kinds of films much anymore so that's why we believe the market will be very interested by this project," he said.
There is no distributor attached yet to the project, but Rouleau noted he and Mednick decided to delay the decision until they have footage to show potential partners.
"We believe so much in what we're doing…we know we're going to create a good film. Because of that we're going to wait, get a little bit of images and then show it to distributors," he said.
Set to film through June, additional producers on Devil's Gate include Valerie d'Auteuil of Caramel Films along with Ian Dimerman and Brendon Sawatzky of Winnipeg-based Inferno Pictures, while Skyler Mednick of Mednick Productions is the executive producer of the series.
Devil's Gate is Clay Staub's feature directorial debut.