TIFF launches TV program for 2015
The 40th edition of the festival will feature a new program titled Primetime, showcasing television from around the world.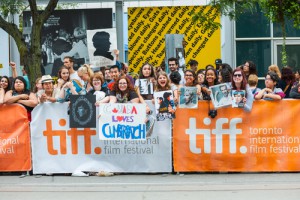 Yes, you read that right: TIFF is getting into TV.
The Toronto International Film Festival announced Wednesday that it is introducing a new program dedicated to television for its 2015 edition.
The Primetime program will focus on presenting "the best of international television" and will feature six programs showcasing what programmers determine are some of the best qualities of today's TV. Series from broadcasters, streaming services and independent producers all qualify.
The inaugural Primetime lineup will be announced in the coming months. It will also include public screenings, and Q & A sessions with the creators of the shows.
TIFF will also incorporate information about television programming into its Industry Conference lineup for 2015, focusing specifically on long-form and episodic storytelling.
Photo: Stacey Newman / Shutterstock.com