Samantha Bee, Jonathan Torrens do play-by-play for YTV comedy
Jacob Tierney directs Game On, where two sports announcers give a running commentary on a teen's life.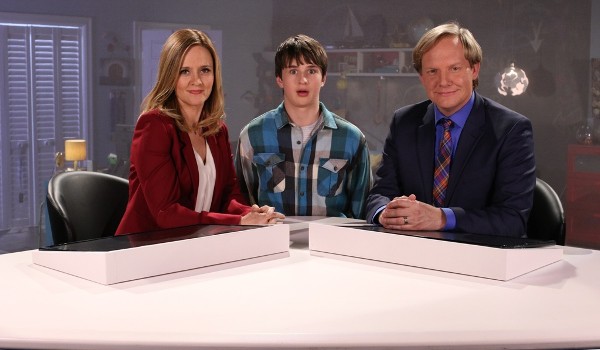 YTV will next month debut Game On, a live-action comedy where two sports announcers, performed by Samantha Bee and Jonathan Torrens, provide play-by-play and colour commentary on 14-year-old Toby Martin's awkward, cringe-worthy life.
The 20-episode, half-hour series from Montreal's Ad Lib Films, to launch on May 4 with a two-episode run, is directed by Jacob Tierney and has Grayson Gurnsey in the lead role of Toby, a teen dealing with typical growing pains.
Game On turns on making the everyday disasters of Toby's life fodder for Bee and Torrens at the anchor's desk, as they call his various moves as fumbles, interceptions or goals.
The series also stars Jamie Mayers as Toby's best friend, and Jonathan Langdon as a sideline reporter who creates webisodes called The Wilf Diaries, which serve as Game On's digital extension.
The additional online content is set to stream on YTV.com after the broadcast premiere of the series.