Summerhill's latest sale, renewals for Shark Teeth, CMJ
Toronto's Summerhill sells its cute and cuddly series into the U.S. while the two other Canadian prodcos ink deals for new seasons.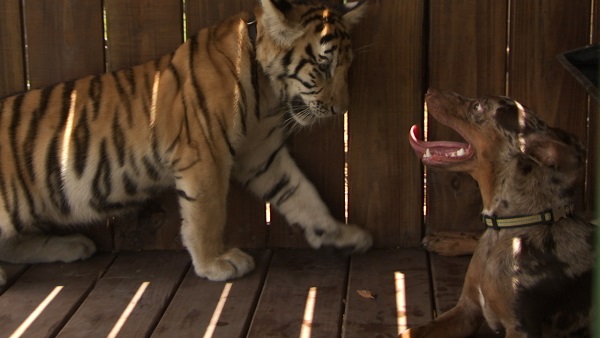 Buzzfeed's influence on popular culture continues unabated, prompting traditional broadcasters to get into the "10 unlikely animal friends" headspace when buying up new programming.
To that end, Toronto-based Summerhill Entertainment has sold its series Dog's Best Friend's to Discovery Family Channel in the U.S.
In a deal brokered by distributor Blue Ant International, Discovery Family Channel has acquired 13 half-hour episodes about unlikely interspecies friendships between dogs and other animals.
"We're thrilled that it was Discovery Family Channel because we feel it's the right fit for the show," Laura Lillie, executive producer and president of Summerhill Entertainment, told Playback Daily.
The show originally aired on Oasis HD in the fall and summer of 2014, and will be renamed My Dog's Crazy Animal Friends for the U.S. market.
According to Lillie, the show was originally developed with American audiences in mind with U.S. broadcaster ViaSat coming on board as a pre-sale partner.
With the show also sold into Thailand through Thai broadcaster Next Step Company Limited and in the U.K. to British broadcaster UKTV, Lillie says she has her fingers crossed for a second season. "We haven't talked to Discovery Family yet but we're hoping that season two will happen in some capacity, in some way," Lillie said.
The series will premiere on Discovery Family Channel on April 9 at 9 p.m. with two back-to-back episodes.
In other Canadian production company news, CMJ Productions' A Stranger in My Home was greenlit for 10, one-hour episodes, an increased order over last season's six episodes, and a fourth season of Fatal Vows (13 x 60 minutes). The renewal deals came from Investigation Discovery U.S., and Bell Media French language specialties Canal D and Investigation.
Also, Toronto based Shark Teeth Films' factual series Rugged Justice has been renewed for a second season by Animal Planet U.S.A.
The series, which follows Washington State's Department of Fish and Wildlife Law Enforcement as it protects both wildlife and people, is set to begin production on its 10 hour-long episodes later this month. It is expected to air by fall of this year.