Ricky Gervais' Special Correspondents to shoot in Toronto
The movie for Sony Pictures Worldwide Acquisitions will shoot in Toronto this spring.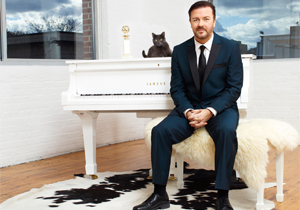 Special Correspondents, a remake of the French comedy Envoyés très spéciaux and directed by Ricky Gervais, is set to shoot this spring in Toronto.
The movie for Sony Pictures Worldwide Acquisitions will shoot in Pinewood Toronto Studios from May 19 to June 29, 2015, according to the IATSE local 873 website.
Special Correspondents sees Eric Bana play a former radio journalist alongside his technician (Gervais) who, while supposed to be reporting on a South American rebel uprising, fake their own kidnapping and hide out over a New York City restaurant.
As their fake reports gain worldwide buzz, the duo must travel to South America to untangle their lies.
Gervais, who wrote the script, has kepts his fans apprised of his Toronto pre-production ahead of the May start of shooting.
"A wonderful day scouting locations in Toronto. Now to soak & refuel on wine & pasta to do it all again tomorrow," The Office star said Monday on his Twitter account.
Special Correspondents is coproduced by Bron Studios and Unanimous Entertainment, in association with Creative Wealth Media Finance.
Chris Coen, Aaron L. Gilbert, Manuel Munz and Gervais are producing, with Jason Cloth and Larry Sanitsky executive producing.