Sinking Ship sends Odd Squad worldwide
In addition to the raft of deals for Odd Squad, the prodco also received a season two order for Annedroids from Amazon.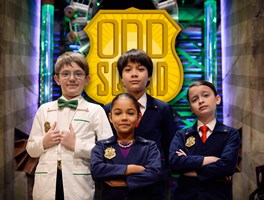 It's a busy Monday at Toronto's Sinking Ship Entertainment.
In addition to the announcement that the prodco has it sold its live-action kids series Odd Squad to several international broadcasters, it has also been revealed that Amazon Studios renewed Sinking Ship's Annedroids for an exclusive second season run on its Prime Instant video service.
Annedroids (26 x 30 minutes) is a science-based adventure series distributed by Picture Box and targed at six-to-nine-year-olds. It aired in 2014 on Amazon in the U.S. and TVO in Canada. The renewal was announced by Tara Sorensen, head of kids programming for Amazon Studios.
Odd Squad, (40 x 22 minutes) has been sold to Australia's ABC 3, Sweden's SVT Barnkanalen, Norway's NRK Super and Gloob, a Globoast channel that operates in Brazil.
The television series also has several multiplatform and transmedia elements, including a fully responsive website, five multiplatform HTML5 games and the mobile app Blob Chase. The Odd Squad TV series, targeted at kids aged five to eight, launched on PBS Kids and TVO in November.
Odd Squad is produced by Sinking Ship Entertainment along with The Fred Rogers Company. The series was created by Tim KcKeon and Adam Pletzman.