Crazy8s filmmakers gear up for production
The filmmaking contest will see six teams shoot and deliver short films within eight days, with production slated to start on Feb. 13 (directors of the 2015 Crazy8s projects pictured).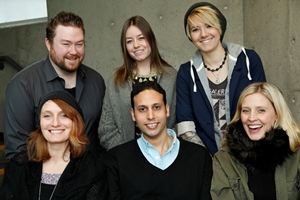 The six  filmmaking teams selected to participate in the annual Crazy8s competition are set to start production on their films on Feb. 13, and have eight days to edit and deliver their projects.
The Vancouver-based contest provides funding and support for emerging filmmakers to produce shorts. The six winning teams selected to shoot their films were chosen from a short list of 40 projects. That list was then cut down to 12, with each team submitting their final drafts of their scripts to the Crazy8s jury who determined the six winning projects.
The selected filmmaker teams each receive $1,000 and a production support package that includes a RED camera, production insurance, sound recording equipment, a lighting and grip package, on-line editing and a professional sound mix. The completed films will be screened at a gala event in Vancouver on Feb. 28.
This year's Crazy8s projects slated to go to camera on Friday are Ghost of the Underground (writer/director: Scott Belyea; producers: Dave Rice and Keli Moore), Kindergarten: Da Bin Ich Wieder (writer/director: Aubrey Arnason; director: Kalyn Miles; producers: Laura Brooke Toplass and David Angelski), One Last Ride(writer/director: Caitlin Byrnes; producers: Jordan Barber and Kyle Hollett), The Twister Slipper (writer/director: Angie Nolan; writer: Sharai Rewels; producer: Katie Schaitel), Under a Glass Moon (director/writer: Mo Soliman; producer: Brent McCorkle) and The Wolf Who Came to Dinner (director/writer: Jem Garrad; producer: Michael Khazen and Beatrice King).