Arvo Leo on pulling off artist doc Fish Plane, Heart Clock
The filmmaker secured coin from Switzerland and B.C. to fund a three-month shoot on Baffin Island to capture the life and work of Pudlo Pudlat, an Inuit hunter-turned-artist.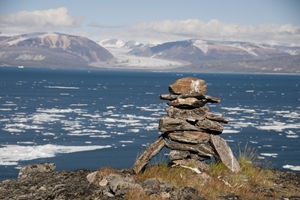 Top Canadian auteurs such as Atom Egoyan, Guy Maddin and Michael Snow can seem to lead double lives, keeping one foot in the cinema via arthouse features, and at other times rolling out more abstract video installations.
The latest director to join the latter fold is Vancouver's Arvo Leo, whose latest film, Fish Plane, Heart Clock, features the work of the late Inuit hunter-turned-artist Pudlo Pudlat. The project made its debut this week at the Berlin Film Festival.
The inspiration for the Canada-Switzerland coproduction came to Leo when he came upon a book about Pudlat's art in a Vancouver used bookshop.
From there, Leo secured financing from the Centre for Contemporary Art in Geneva and the B.C. Arts Council to fund a three-month shoot in Cape Dorset, Baffin Island to capture Pudlat's life and work.
In Fish Plane, Heart Clock, Leo combines images from around 4,000 drawings and paintings by Pudlat with his own video footage of small-town Baffin Island in transition.
The film is less about the issues of poverty, drug and alcohol abuse impacting the Inuit and other aboriginal communities in Canada's north, than about Pudlat's approach to mingling traditional imagery of hunters, igloos and wildlife with modern conveniences like airplanes, telephone poles and cars.
"I'm not trying to speak about, but to speak nearby," Leo told Playback Daily, regarding his choice to create a portrait of an artist that sidesteps the usual documentary tropes, opting instead to use magic realism to provide a window into Pudlat's endless imagination.
"If you look at his work over the years, there's lots of experimentation. I always felt that he was always working on things. There's no stagnancy," Leo said of Pudlat and his inventive drawings and paintings.
Fish Plane, Heart Clock has yet to premiere back home in Canada, with Leo eyeing a slot either at Hot Docs or TIFF.
- Image via Shutterstock