Don Ferguson Productions options Hardly Men
The prodco, headed by Air Farce star Don Ferguson, has picked up the TV and digital media rights for the series created by sketch duo Peter Carlone and Chris Wilson (pictured).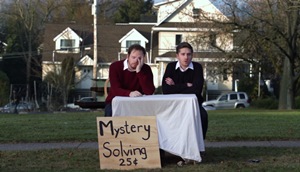 Toronto-based Don Ferguson Productions has optioned the television and digital media rights to Hardly Men, a series created by Canadian sketch duo Peter n' Chris (Peter Carlone and Chris Wilson).
Hardly Men tells the story of a mystery-solving duo going after their childhood dream of becoming detectives while dealing with the pressures of adult life. The series is based on Carlone and Wilson's body of work as sketch comedians, including their play Peter n' Chris and the Mystery of the Hungry Heart Hotel.
Kevin Wallis, producer and head of development at Don Ferguson Productions, was a long-time fan of the comedy duo's show. After Wallis saw a demo of the show Carlone and Wilson originally shot for an application to the Independent Production Fund, he continued to work with the pair to see if they could partner to produce a television show or web series.
"The interesting thing Peter and Chris were able to do was take their sensibility from the stage and build upon that," Wallis told Playback Daily, noting that their stage show can sometimes feature dozens of characters played by the duo.
"They were able to contain that world somehow (in the TV script) without losing their voice," Wallis added.
The comedy duo already has a number of comedy accolades to their names, including two Audience Choice Awards from the Toronto Sketch Comedy Festival, a Best Comedy award from the Montreal Fringe Festival and Best Sketch Troupe and Best Play wins from the Canadian Comedy Awards. In addition to their recognition on the comedy circuit, the online presence of Peter n' Chris is on the rise, positioning the duo well for a TV deal, Wallis said.
"It just seems like the right time for it," Wallis said.
The Don Ferguson Productions team is currently pitching the Hardly Men project to broadcasters in Canada and the U.S. as a television series, although the web element "is never off the table," Wallis said. Hardly Men is being co-developed by Vancouver-based prodco Whiskaye Films.