Temple Street continues digi diversification with Next Step app
The app is the second product to come out of Temple Streets' digi-focused Media Ventures division as it looks to leverage existing IP across multiple platforms.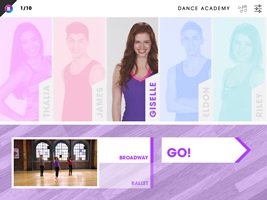 Temple Street Productions is continuing its push into digital territory with the launch of The Next Step Academy iPad app, the second project to be released through its Media Ventures division.
The Media Ventures division was created in 2013 to oversee all of the production company's digital media endeavours. Part of the division's mandate is also to find ways to leverage Temple Street's existing IP in the digital space, said John Young, managing director with Temple Street Productions.
"At the heart of the business now is the creation of intellectual property. You are creating IP, and frankly, the job is to exploit that," Young told Playback Daily.
With The Next Step, the Media Ventures team saw an opportunity to leverage the series' existing IP to create an app kids can use to learn to dance, with lessons taught by characters from the show.
The Next Step Academy is built on a freemium model, in which the app is free to download from the iTunes store with in-app purchasing opportunities – in this case, extra dance lessons.
The Next Step series currently airs in multiple territories around the world (including the U.K., Australia, the U.S. and Italy), and the app is available to that same international audience, Young noted.
"The Next Step Dance Academy app stands alone as a nice little piece of business but also ties very much into the audience around the world who watches the show and this gives them another way to connect with the show and the kids," Young said.
Temple Street and the dancers from the series will be promoting The Next Step Academy app via their social media accounts, Young said. Temple Street will also be buying ads on Family Channel for the app. As well, The Next Step Academy will be promoted during the upcoming national concert tour The Next Step Live on Stage.
Media Ventures launched its first project, Evolve Functional Fitness, last winter. The digital fitness platform features workout programs, nutritional information and a social network for users. In addition to creating digital tie-ins to traditional television properties, Young noted that original digital projects such as Evolve Functional Fitness could also spin off into other more serialized properties, such as a YouTube channel. The division is also working with some brands around branded content, although Young declined to reveal more details on any recent deals.