The New Establishment: Todor Kobakov
Film composer - and occasional indie rocker - Todor Kobakov is racking up credits and kudos as one of Canada's most cutting-edge sound artists.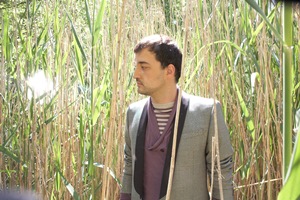 It was less than two weeks until the world premiere of Bruce McDonald's 2013 feature The Husband at TIFF, and the director had a serious problem: the music.
"For some reason the producers weren't happy with the composer that we had," McDonald says. "It was quite late in the process and we needed to start from scratch."
Finding the right composer for a film can be a challenge, let alone under such tight time restrictions. On the advice of an industry friend, McDonald called Todor Kobakov, who the year before had been selected for the inaugural Canadian Film Centre Slaight Music Residency.
McDonald laughs as he remembers asking Kobakov something along the lines of: "Would you be interested in watching this movie – and writing, recording and mixing a score in 10 days?"
Kobakov obliged and, alongside his friend and fellow composer Ian LeFeuvre, got to work. "Ian and I didn't sleep for 10 days and got the job done," Kobakov says with a wry smile. "I'd rather have had six months, but sometimes having little time forces you to commit and not question yourself too much."
The Husband premiered at TIFF and later travelled to the Whistler Film Festival, where it won the prize for best Canadian film. Kobakov, meanwhile, has already agreed to compose a score for McDonald's next feature film. "I had been waiting for a guy like Todor for a while," McDonald says. "There are certain people you meet along the way and you hope you can go on a long run with them."
Born in Sofia, Bulgaria in the late 70s, Kobakov was always in a house filled with music. His grandmother played classical bass in the opera and his mother, a bass player herself, worked as music programmer for Bulgaria's national public broadcaster. He moved to Canada in 1996 when he was accepted at the University of Toronto for classical performance piano, performing on the side under the moniker Cy Scobie and was later part of several bands including Major Maker and Small Sins. Later, in 2009, he would release a piano album, Pop Music, and earn recognition as the Best Keyboardist in the city by Toronto's Now magazine.
His screen industry career started in the early 2000s when he composed the music for a Nikon commercial that aired in a cinema pre-show. "When I was a kid, the movies would start and I would think 'I want to do this one day. This is the most incredible feeling ever,'" he remembers. The moment the commercial started, it didn't disappoint. "Being in a theatre and seeing it on the big screen was like 'oh my God! This is awesome.'"
Since then, Kobakov's portfolio has grown to include writing the score for 2007′s Young People Fucking and 2012 thriller The Samaritan and more recently, the score for season one of Bell Media's original  drama Bitten. He has also worked alongside some of the biggest names in Canadian music, including Emily Haines and k-os, as both composer and pianist.

But it was his experience with the Slaight Music Residency that Kobakov credits as his biggest career-changer. There, he spent time with legendary Canadian composers such as Mychael Danna and Howard Shore, as well as industry icons like Norman Jewison.
Inside his studio, the floor to ceiling window overlooking Queen Street is entirely covered a black drape, blocking out the natural light. "When I work to film, you want it to be dark so you can see the screen and feel like you're in the movies," he describes. His workspace, meanwhile, feels spacious despite being filled with plenty of instruments and accessories.
The sheer volume of pianos and synthesizers alone is stunning. Kobakov runs through each instrument's unique contribution to a score: there's the pump organ ("church-y"), the Grand piano ("either classical or Beatles-y"), the Rhodes piano ("very much Stevie Wonder"), the duo piano ("Aphex Twin, electronic"), the DSI Prophet 8 ("sci-fi meets Pink Floyd") and the Make Noise Modular ("crazy big bass sounds and dub step").
This winter, Kobakov will focus mainly on season two of Bitten before starting work on his next Bruce McDonald project. After that, he'll work on the upcoming Chet Baker biopic Born to be Blue.
When asked if there are any directors he'd like to work with in the future, Kobakov quickly gives the craftsman's stock answer, saying he'd love to work with any director with a great story to tell.
But the politically correct moment doesn't last for long.
"Martin Scorsese would be great," he admits.