DHX to produce Cloudy with a Chance of Meatballs TV series
The popular film franchise from Sony Pictures Animation will be adapted for the small screen with DHX Media also representing merchandising for the TV series worldwide.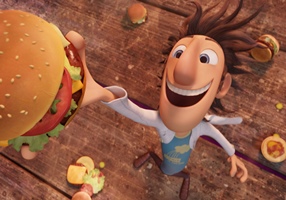 More burgers and pizza will be raining down on TV sets around the world as Sony Pictures Animation has inked a deal with DHX Media to create a television series for the film franchise Cloudy with a Chance of Meatballs.
Halifax-based DHX Media will develop and produce 26 x 22-minute eps, as well a hold global TV and non-U.S. home entertainment exploitation rights for Cloudy with a Chance of Meatball: The Series. Sony will act as the home entertainment distributor in the U.S. The agreement will also see DHX represent global merchandising rights for the TV series.
The storyline will be a prequel to the films, before giant pieces of food started to rain down on Swallow Falls. The hero of the movie, Flint Lockwood, is a high school tween with dreams of becoming a scientist in a blue-collar town where sardines drive the economy. Tagging along is the new girl in town, Sam Sparks, who wants to become an intrepid reporter. Other popular characters from the movie will return as well.
Cloudy with a Chance of Meatballs debuted on the silver screen in 2009, and was followed by a sequel in 2013. Distributed by Columbia Pictures, the movies combined grossed more than US$550 million in theaters.
- From Kidscreen