Why Dolby Atmos heralds a quiet revolution for Canadian film
The immersive sound mixing technology, now at Deluxe Toronto, is not just for explosions, post production head Nick Iannelli tells Playback Daily.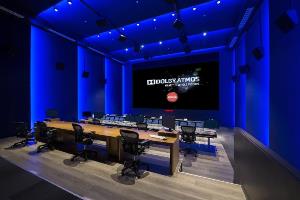 Nick Iannelli, VP  of post-production operations at Deluxe Toronto, sees a quiet revolution coming to Canadian indie film.
Deluxe Toronto has just upgraded its new King Street facility in Toronto to include a Dolby Atmos mixing stage.
Dolby's new immersive 3D sound technology promises when the action or sci-fi thriller you're viewing gets loud at the multiplex, film-goers will hear and feel the impact of an explosion.
But Iannelli also says when a Canadian director making an intimate drama wants it so quiet in a cinema you can hear a pin drop, they should go to Deluxe Toronto for a Dolby Atmos mix.
"A lot of people think this is great for Iron Man 4. It goes beyond that," Iannelli told Playback Daily.
Even a theatrical drama needs subtle sound touches. "It puts you in the scene. If you're outside on a street corner, you can have the sounds of buses going by behind you," he added.
Iannelli explains a traditional cinema with stereo sound has speakers placed around the walls to play a movie's audio track with little versatility.
"So if you had eight speakers on the side wall, it (sound) would go to eight speakers equally," he said.
Dolby Atmos theaters, by contrast, have surrounding sound via speakers on the walls and ceiling for overhead audio.
That allows a sound mix where engineers can place specific sounds in specific locations.
"Now you can go to individual speakers or banks of speakers, or make the sound go high in the room and come down low," Iannelli said.
Deluxe Toronto, which did a sound mix for Atom Egoyan's The Captive, is talking to the producers of the director's latest movie, Remember, about a Dolby Atmos mix.
Iannelli hopes other Canadian filmmakers follow: "It's a way to take a small film to the next level."
The Dolby Atmos mix process may take a few days longer, not a few weeks, minimizing its cost for indie producers.
"It's not necessarily a remix of the entire project," Iannelli said.
Deluxe Toronto also did the sound mix for David Cronenberg's Maps to the Stars and is about to start post-production on Guillermo del Toro's Crimson Peak.
Recent TV projects include work on Vikings, Beauty and the Beast and Penny Dreadful.