Corner Gas: The Movie: a new release model for Canadian film?
"It's exploratory. It's bold and it's new. I hope that lots of people come to the theatres," Virginia Thompson told Playback Daily about the sitcom's film revival breaking the theatrical window.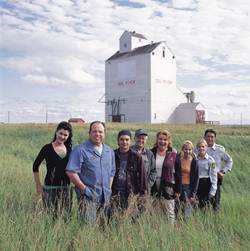 Corner Gas: The Movie is to hit Cineplex theatres on Dec. 3.
But the release strategy via Prairie Pants Distribution calls for the movie reboot to debut also that month on CTV and CTV GO after the theatrical opening.
There's also a special preview for The Movie Network and TMN GO subscribers, and the Brent Butt-starring movie will air on The Comedy Network.
Also ahead of Christmas, Corner Gas fans will be able to buy a special collector's edition DVD, via Video Services Corp.
This is not your typical release strategy for a Canadian indie movie.
The Christmas season roll-out for Corner Gas: The Movie, starting with the Dec. 3 to 7 theatrical run turning quickly into a cross-platform TV and home entertainment play, instead turns the traditional movie release strategy on its head.
And deliberately so, Virginia Thompson, executive producer of Corner Gas: The Movie, told Playback Daily.
The coproducer of the popular sitcom that ran on CTV for 107 episodes to 2009, concluded quickly that a TV-to-movie adaptation was not likely to be financed, much less shot, if they followed the traditional Canadian film financing and production model.
"We did try to make Corner Gas the traditional way. We did go to the distributors and ask them if they would support the film, and we talked about the marketing we wanted to do, and we didn't know if we could make the film in Canada following the traditional approach," Thompson recalled.
But when the Corner Gas producers flipped the release strategy to a limited theatrical launch as part of the Cineplex Front Row Centre Event program, followed quickly by selling the movie to TV, DVD and online platforms, interest from traditional Canadian film backers suddenly perked up.
"For our funders, it suddenly made sense, they saw the value," Thompson recalled.
Now Telefilm Canada didn't have to make as big an investment as it might for a pure-play movie, and Thompson could tap traditional TV funders like the Cogeco Fund and Bell Media for financing to make up the shortfall.
Now Cineplex could target a rabid fan-base for Corner Gas as it does with opera and live theatre followers with its Cineplex Front Row Centre program.
"We're flipping the model, as we can be in a lot of theatres over a short period of time, not in a small number of theatres for a longer period of time," Thompson explained.
The Cineplex theatrical experience also will include a pre-event show, possible appearances by cast members, prize giveaways, and a fan sing-along as the credit roll at the end of the movie.
"It's new and different and fun and really creates a community around that theatrical experience," Thompson said.
The strategy opened up the opportunity for Corner Gas: The Movie to launch as a project with a Kickstarter campaign.
And allowed online content funders like the Bell Fund and the Canada Media Fund to come on board to help spur online marketing of the film, which includes fans of the sitcom digitally casting a vote to bring Corner Gas: The Movie to their hometown theatre.
And on top of that, CTV doesn't have to wait 18 months to get the film on its screens, which encourages them to do more to promote Corner Gas: The Movie than they might another indie film, Thompson said.
Ultimately, the release strategy aims at delivering Corner Gas: The Movie across a host of platforms because that's how Canadians today consume their media.
"When we were building Corner Gas: The Movie, and when we look at the partners we have and the brand we have, we know people want to see the film in different ways," Thompson said.
It helps that the Corner Gas producers were shopping their project to potential Canadian partners just after Rob Thomas got his own Kickstarter-led Veronica Mars TV-to-movie project off the ground in partnership with Warner Bros.
Like Veronica Mars, Corner Gas is a high-profile property that Canadian industry players can more readily experiment with as they back a near-simultaneous theatrical, TV and VOD release.
Corner Gas: The Movie arrives in theatres at a time when consumers are increasingly demonstrating a preference for character-driven cable or streaming dramas over popcorn movies at the multiplex, propelling distributors and producers to increasingly play with windowing across theatres home entertainment, online streaming and TV platforms.
"It's exploratory. It's bold and it's new. I hope that lots of people come to the theatres," Thompson said, echoing her varied backers' need of a new Canadian industry model to get indie movies into theatres with a enough hype and momentum to see them then succeed on ancillary platforms.
She knows Corner Gas' loyal fan base means the Christmas theatrical release for a crowd-funded movie reboot could just be a rarity among Canadian film projects.
And Thompson does see the irony of a Canadian film and TV industry that works in silos and has now come together to back a project by a first-time movie producer.
"It has meant people had to work together when they typically didn't work together, and to try something new," she said.