Deals: Flame, Portfolio, Archstone, book options
Ahead of MIPCOM, Flame Distribution picks up the international rights to a hot new fashion doc (pictured), while two Canadian novels find producers.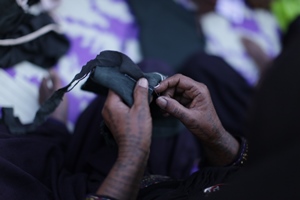 DISTRIBUTION
Flame Distribution
Flame Distribution has picked up the international rights to Traceable (pictured), a documentary from director Jennifer Sharpe and Clique Pictures, ahead of its world premiere at the Edmonton International Film Festival. Flame Distribution, the distribution arm of factual and lifestyle television production company Flame Productions, will launch sales of the doc at MIPCOM. The documentary follows the story of emerging designer Laura Siegel as she navigates the fashion industry while trying to launch her ethically minded and sustainable fashion collection. Traceable was produced in association with NBCUniversal Canada, Bell Media, and Rogers Telefund with the assistance of the OMDC film and television tax credit and the Canadian film or video production tax credit.
Portfolio Entertainment
Indie distributor Portfolio Entertainment has acquired the sales rights to the third and fourth seasons of the Food Network Canada series You Gotta Eat Here! from Lone Eagle Entertainment. Read more about the deal here.
Archstone Distribution
Archstone Distribution has acquired the international sales rights to Sean Garrity's latest film, Borealis. Read more about the deal here.
LITERARY DEALS
Crimes Against My Brother
Crimes Against My Brother, from author David Adams Richards, is in development with former Alliance/Atlantis president of production Seaton McLean. Crimes Against My Brother follows the stories of three close friends as they grow up in a small town along the banks of the Miramichi in New Brunswick. Richards will serve as an executive producer on the series, which is aiming for a 10-ep run with production slated for 2015. Subsequent seasons of the series would be based on recurring characters from season one, and other novels from Richards. The deal was negotiated by literary agent Anne McDermid on behalf of David Adam Richards and Great North Artists Entertainment. There is no broadcaster currently attached to the project.
Sgt. Winston Windflower 
Ottawa-based producer Heidi Lasi has optioned the film and television rights to the Sgt. Windflower mystery series from Canadian author Mike Martin. The book series follows the story of Sgt. Winston Windflower, a Cree man from northern Alberta who is an RCMP officer posted in a small town in Newfoundland. The books have all been published by Ottawa's Baico Publishing. The most recent book in the series, Beneath the Surface, was released in May of this year. Martin will be a creative consultant on the eventual series. A broadcaster is not yet attached to the still-in-development series.