Which Canadians will push for copros in San Sebastian
A dozen indie producers will participate in the Europe-Latin America coproduction forum as part of an initiative from Telefilm Canada.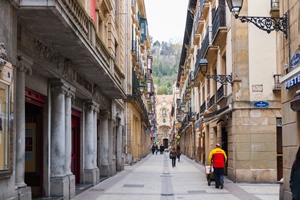 Spain's San Sebastián Film Festival on Thursday unveiled plans for an inaugural Focus on Canada as part of its Europe-Latin America coproduction forum.
The initiative, organized with Telefilm Canada, brings 12 Canadian producers to Spain to network for coproduction opportunities as part of the coproduction forum.
The Canadian contingent headed to San Sebastián includes EMAfilms' Anne-Marie Gelinas, Kyle Irving of Eagle Vision, Phyllis Laing of Buffalo Gal Pictures and Nicolas Comeau of 1976 Productions.
Also headed to Spain is Michael Dobbin of Quiet Revolution Pictures, Barrie Dunn of Trailer Park Productions, Kevin Tierney of Park Ex Pictures and Jennifer Weiss of The Film Farm.
Rounding out the Canadian presence at San Sebastian is Christopher Zimmer of Vertical Productions, Bill Marks of Vortex Words + Pictures and Nancy Florence Savard at Productions 10e Ave.
The San Sebastian Film Festival will run from Sept. 19 to 27.
- San Sebastian image courtesy of Shutterstock