Organic Panic hits The Brand New One
Why Zoomer Media topped up its original Canadian programming with the Richie Mehta-directed doc series.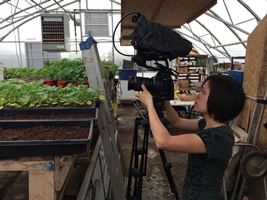 When Chris Remerowski and David Bratton of Sixteen Films pitched a doc series on health and sexuality to Zoomer Media's The Brand New One, the channel took a pass — but then asked the producers if they would instead do a show about organics.
The digital fitness/lifestyle channel was looking for more original Canadian programming, and thought that a series on organic food would better fit into its programming strategy, Remerowski said. And when Moses Znaimer became involved with the project as an executive producer, he wanted to make sure the doc series had a bit of an edge to it, Remerowski said.
"He wanted something with some controversy about it," Remerowski told Playback Daily. The collaboration led to the creation of the five-part doc series Organic Panic, directed by Richie Mehta, which aims to foster a debate around organic products. Remerowski had previously worked with Mehta on a documentary series for Vision TV, and they connected when Mehta was in Toronto to promote I'll Follow You Down. Remerowski and Bratton pitched Mehta on joining them on their Organic Panic project, and Mehta agreed.
Each half-hour episode features an organic 'believer' and an organic 'skeptic' who debate the merits and drawbacks of organic food and products. For example, one episode sees a woman named Gracie speak with Gillian Deacon, author of the book There's Lead in Your Lipstick, which profiles the chemicals used in cosmetics. Gracie then speaks to Dr. Joe Schwarcz, McGill University's director of the office for science and society, who refutes everything Deacon says.
The series was shot in southern Ontario and Montreal from the end of April through the end of May of this year. The budget for the series was under $200,000, and was financed by Zoomer Media, The Brand New One and tax credits. Remerowski and Bratton served as producers on the series. Organic Panic is set to premiere on Sept. 1.