Music the moneymaker for NSI filmmaking team
Kyle Rideout and Josh Epstein have won the NSI's Jim Murphy Filmmakers Bursary for their marketing plan for Public-Schooled.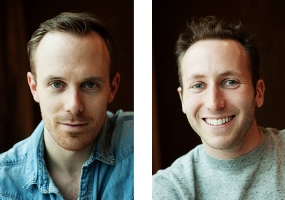 Director Kyle Rideout and producer Josh Epstein have won the NSI's Jim Murphy Filmmakers Bursary for their feature film project Public-Schooled, thanks to a marketing plan that will feature the songwriting skills of Marianas Trench's Josh Ramsay.
The $3,000 bursary is awarded to one filmmaking team enrolled in the NSI's Features First program who pitches the most innovative marketing idea. Rideout and Epstein's winning marketing plan will see Ramsay write and produce an original song for Public-Schooled. The song will be released in early in the promotional period for Public-Schooled, with the goal of building an audience for the film prior to its release.
The marketing partnership between the filmmakers and Ramsay means the project may get more exposure to people who are already fans of Mariana's Trench, said Brendon Sawatzky, member of the bursary jury and NSI director of programming.
"You've got to have something that will make you stand out from the crowd, right? Clearly [Ramasy] has his own built-in audience," Sawatzky told Playback Daily.
Previous projects that have won the bursary, which has been awarded since 2010, include Heaven's Door from writer/director Geoff Redknap and producer Katie Weekley, Wisteria by writer/director A.J. Bond and producer Amy Belling, and Fragments from producer Michael Vernon and writer/directors David Hamelin and Neil Macdonald.