Colin Geddes, Katarina Gligorijevic to program The Royal in Toronto
The long-time theatrical launch pad for Canadian indie films has new programmers to select first-run premieres, special event movies and classic genre titles.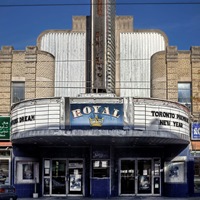 The Royal, the theatrical launch pad for a host of Canadian indie films on College Street in Toronto, has new programmers.
Long-time Toronto International Film Festival programmer Colin Geddes and partner Katarina Gligorijevic are the new programming directors for the historic repertory theater.
They have been tapped to feature first run premieres, special event movies and classic genre films at the downtown theater that shows movies in the evenings and on weekend afternoons, while also serving as a post-production facility in four editing suites by day for owner Theatre D Digital.
An international film programmer at TIFF, Geddes is best known for selecting titles for the Midnight Madness and Vanguard sidebars.
Gligorijevic is a Toronto-based writer and producer who has worked in the music and film industry for over a decade.
The Royal was previously programmed by former TIFF and Whistler Film Festival film picker Stacey Donen, who has launched the boutique distributor College Street Pictures with Theatre D Digital, based in The Royal.
Geddes and Gligorijevic have already programmed their first titles for The Royal screen, to include Borgman, Radio Free Albemuth, and Alejandro Jodorowsky's The Dance of Reality.