Book of Negroes, Corner Gas movie among Bell Fund recipients
Other productions to receive financing through the fund include Dino Hunt Canada and the children's series Chirp. (Corner Gas pictured.)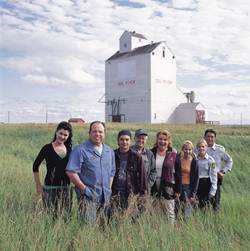 The Bell Fund has awarded just under $4 million in financing in its latest round of funding across a range of projects, including The Book of Negroes and Corner Gas: The Movie.
A total of eight broadcast productions and their accompanying digital media projects received production grants through the Bell Fund's production program. The Epitome Screen Productions series Precious Blood and its transmedia component received financing in this round of funding.
The Precious Blood transmedia project will include a mobile app where viewers can engage with various story components before, after and during the broadcast of the show. Firefish Entertainment's Can You Imagine That and Guru's Dinopaws and their accompanying web games also received funding through the program.
Other projects and their digital companions that were awarded grants include Corner Gas: The Movie, BON Production's The Book of Negroes, Sinking Ship Production's Chirp, season 10 of Canada's Worst Driver and Dino Hunt Canada.
The Book of Negroes digital component will feature a social media campaign ahead of the broadcast of the series, and a website that showcases interviews with characters in the show, as well as educational and historical information that will eventually be made into an interactive ebook.  The Corner Gas: The Movie digital companion will feature exclusive online content and a desktop and mobile game.
The French-language programs and their accompanying digital projects selected to receive production grants under the Bell Fund's production program include Attractions Images Productions II's Qu'est-ce qu'on mange pour souper 2, the children's series Salmigondis from Téléfiction Productions, Echo Media's Les Chroniques de Xavier et Mamie and Les gars des vues 2.
Five programs and their corresponding digital media projects  received financing from the Bell Fund's low budget production program, including Shutterbugs and Me connais-tu?, a trivia game hosted by Jérémy Demay. The digital media component of Me connais-tu? will feature an app where viewers can predict the result of challenges issued to contestants in each episode.
Two programs received grants under the Bell Fund's development program: Agentic Digital Media & Mamaoo Pictures's Coyote's Crazy Smart Science Interactive and Fathom Film Group's My Brother, My Enemy. The three projects selected to receive coin under the fund's TV development online program were Bob! the Slob from CCI Entertainment, Let's Get Hitched from Pivotal Media, and TRAK from MustMédia.
Finally, a total of six projects received funding in the professional development program, including the 2014 edition of the Vancouver International Film Festival, WIFT – Toronto's Convergent Media Program and iLunch 13.0 from Interactive Ontario.