Tornado Hunters pilot to air on CMT
The show, which follows a group of storm hunters based in Regina, received support from the Bell Fund's TV development online program.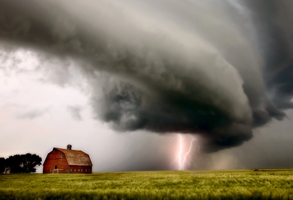 The pilot of Saloon Media's Tornado Hunters is set to premiere on Corus Entertainment's CMT this fall, following support the project received from the Bell Fund's TV development online program.
Through the Bell Fund financing, Saloon Media also shot webisodes and trailers that can be posted online to gauge audience reaction to the series and its subjects before the pilot goes to air, said Paul Kilback, producer and director with Tornado Hunters and Saloon Media.
The show has not yet been ordered to series, but a decision to greenlight a season of the show will be based on audience feedback on the aired pilot and the online content, said Kilback, noting that this is the first time he has produced a show in such a way.
"It's a brave new world for all of us," Kilback told Playback Daily.
It has not yet been decided where the online content and webisodes will be featured ahead of Tornado Hunters pilot airing on CMT.
The hour-long pilot episode of Tornado Hunters follows the stories of the three men who make up the Regina-based storm chasing company Tornado Hunters. The unpredictable nature of storms made for a challenging shoot, Kilback said, with the crew following the tornado hunter team throughout the Canadian  prairies all the way down to Texas. In addition, this storm season proved to be particularly weak.
"The challenge for us is, we're going out there and waiting for things to happen. We've been under some great storms, but just never have turned into any real tornadoes yet," Kilback said.
Tornado Hunters received financing from the Bell Fund and licensing fees from CMT. Michael Kot is executive producer on the series, and Betty Orr serves as head of production.
- Storm image courtesy of Shutterstock