Virginia Rankin joins Sphere Media
The veteran TV exec will executive produce the second season of 19-2 (pictured) for Bravo.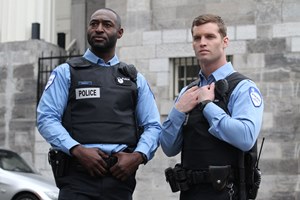 Virginia Rankin is adding to her responsibilities at Sphere Media Plus.
The veteran TV exec has joined the Montreal-based indie producer as executive producer of the second season of 19-2, the English language adaptation of the Quebec drama of the same name.
Rankin co-executive produced the first season of 19-2 on Bravo, which was produced by Bruce Smith, Carolyn Newman, Luc Chatelain and Jocelyne Deschenes.
At the same time, Rankin will also executive produce all English language production for Sphere, developing new projects for the Canadian and international markets.
"We would like to work with all the major broadcasters in Canada – that's certainly our expansion plan, and also continue our relationship with Bell," Rankin told Playback Daily, adding that the company is also looking to expand into international markets.
Her TV credits include four seasons of Flashpoint for CTV and CBS,  and APTN's Hard Rock Medical.
Bravo's 19-2, co-produced with Echo Media, grew from Sphere expanding beyond Quebec to open a Toronto office in 2011 to target the North American English TV market.
Production on a second season of 19-2 for Bravo is set to get underway this summer.
- with files from Julianna Cummins