The F Word, Orphan Black win at WGC awards
Elan Mastai and Will Pascoe, respectively, were among the 13 award winners feted at the annual event Monday night.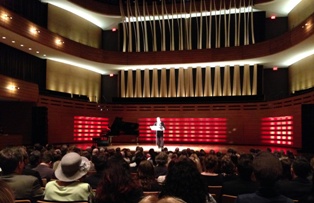 The F Word screenwriter Elan Mastai and Orphan Black's Will Pascoe were among the winners at the 2014 edition of the Writers Guild of Canada Screenwriting Awards, held on Monday evening at Toronto's Koerner Hall.
The fancy new venue earned plenty of good-natured razzing from awards host Sean Cullen, as well as presenters and winners alike. Compared to the noisy boisterousness of previous years' nightclub-hosted events, Monday's ceremony was a seated, non-boozy affair in a theatre built for maximum audio clarity – a fact Alex Barris Mentorship Award winner Susin Nielsen joked increased the intimidation factor significantly.
Mastai took home the top prize in the movies & miniseries category for his work on The F Word, beating out fellow screenwriters Anne Wheeler (The Horses of McBride) and Megan Martin (The Right Kind of Wrong).
Pascoe won the TV drama award for the Orphan Black season one episode "Variations Under Domestication." Elsewhere in television, Marvin Kaye and Chris Sheasgreen won the TV comedy award for the Less Than Kind season four episode "I'm Only Nineteen."
The children and youth category saw a tie this year, with both Lisa Hunter (Finding Stuff Out, season two, "Babies and Families") and Cole Bastedo (Mr. Young, season three, "Mr. Love Letter") taking home awards.
"So we meet again, Mr. Bastedo," Hunter joked as she joined him onstage to accept her award.
The prize in the animation category went to Hollis Ludlow-Carroll for the Almost Naked Animals season three episode "The Rotation Situation." Jill Golick and Julie Strassman won the award in the shorts and webseries category for their work on the Ruby Skye P.I.: The Haunted Library "The Final Clue." Screenwriter Barry Stevens won the award in the documentary category for Sector Sarajevo.
Two standing ovations were awarded during the evening, the first to WGC executive director Maureen Parker, who was given the Writers Block Award for her long-running contributions to the organization, and the second to veteran Canadian showrunner and executive producer Peter Mitchell (currently showrunning Murdoch Mysteries), who was given the Showrunner Award.
"Showrunning Murdoch has been a complete treat for me," Mitchell said when accepting the award onstage.