Canadian Cinema Editors Awards announces nominees
The awards ceremony, now in its fourth year, will be held in Toronto on June 5. (Empire of Dirt pictured)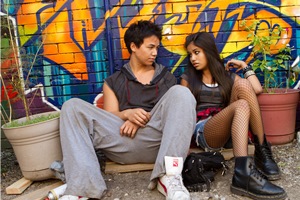 This year's nominees for the Canadian Cinema Editors Awards include the editors who worked on Enemy, Empire of Dirt, The Colony and The Husband, the Canadian Cinema Editors organization announced last week.
The fourth annual Canadian Cinema Editors Awards will be handed out in Toronto on June 5. The awards recognize achievement in film and television editing in nine different categories, including best editing in feature film, long form television, documentary and animation.
The recipients of the lifetime achievement award and the student merit award will be announced on May 1.
The nominees are as follows:
Best editing in feature length
• Jorge Weisz – Empire of Dirt
• Matthew Hannam – Enemy
• Jeanne Slater – Evangeline
• Aaron Marshall – The Colony
• Duff Smith – The Husband
Best editing in television movie or mini-series
• Jamie Alain – Flowers in the Attic
• Gordon Rempel, C.C.E. – Romeo Killer: The Chris Porco Story
• Jamie Alain – Delete, Night 1
• Gareth C. Scales, C.C.E. – What Remains
• Ellen Fine – Bunks
Best editing in long form television series
• Stephen Lawrence, C.C.E. – Orphan Black, "Episode 103″
• Teresa De Luca, C.C.E. – 19-2 "Deer"
• D. Gillian Truster – Orphan Black, "Unconscious Selection"
• Mike Lee, C.C.E. – Copper 2 "A Morning Song"
• Jamie Alain – Continuum, "Second Guess"
Best editing in 1/2 hour broadcast short form
• Gordon Thorne, C.C.E. – Degrassi "Ep 1337 Believe Pt 1″
• Jason Irvine – Degrassi "Ep 1240 The Time of My Life Pt 2″
• Craig Webster, C.C.E. – Satisfaction "Ep 106 First Contact"
• Duncan Christie – Satisfaction "Ep 107 Janet"
• Jay Prychidny – The Next Step "Ep 30 Winner Takes All"
Best editing in documentary
• Roland Schlimme, Roderick Deogrades – The Ghosts in Our Machine
• Mark Ratzlaff – Blood Relative
• Anne Feldman, Jamie Cussen – Amin Amir
• David Kazala – Derby Crazy Love
• Jonathan Mathew – Unclaimed
Best editing in lifestyle/reality
• Jay Tipping – Chopped Canada "Episode 2″
• Giorgio Saturnino, Michael Esteves – Offbeat Roads Danakil Diaries "Ep 1 Is It Over Yet?"
• Guy Georgeson, Mark Westberg – Income Property "Ep 7105 Nicole & Michelle"
• Katie Chipperfield, Neil Sitka – Close Encounters "Ep 108 Nuclear Reaction"
• Giorgio Saturnino, Michael Esteves – Jonathan Toews, Every Picture Tells a Story
Best editing in animation
• Jason Cohen, Simon Box – Oh No! It's An Alien Invasion, Brainlius 3,4,5 / Diary Drama
• Pete Watson – Napkin Man, "Ep 108 Just Me in the Tree / Try-share-atops"
• Paul Hunter – The Nut Job
• Dan Lee, Jamie Ebata – The Day My Butt Went Psycho "Episode 13″
• Kurt Skyers, John Logan – Sidekick, "Episode 48″
Best editing in short film
• Bryan Atkinson – Hole
• Paul Day, C.C.E. – Method
• Erin Deck – Sunday Punch
• Kirby Jinnah – Shamed
• Richard Mandin – The Archivist
Best editing in any live action web series (comedy or drama)
• Michael Doherty, C.C.E. – Darknet "Episode 101″
• Jason Leaver – Out With Dad, Dining In & Out
• Mike Donis – Pete Winning and the Pirates, The Pursuit of the Pathfinder
• Ian Macleod – Polaris "Episode 2″
• Jon Anctil – World War Geek "Ep 108 It's All Fun and Games Part 2″