Continuum comes out on top at Constellation Awards
Also faring well at the awards event held June 22 was Primeval: New World, which took two prizes compared to Continuum's (pictured) three.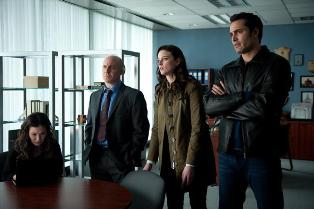 TV series Continuum has picked up three prizes at the seventh annual Constellation Awards, besting fellow prize front runner Primeval: New World, which took home two trophies.
Continuum, which is produced by Reunion Pictures (Thunderbird Films acquired Reunion in April) for Showcase and Syfy, took the awards for best series, best script for the show's pilot episode, and best female performance for the show's lead actress, Rachel Nichols. The series is executive produced by creator Simon Barry and Patrick Williams.
Primeval: New World, which was produced by Omnifilm Entertainment and Entertainment One for Bell Media for one season, took the statue in the category of best male performance for lead actor Niall Matter, as well as in the category outstanding Canadian contribution to science fiction for show creators Judith and Garfield Reeves-Stevens.
Also faring well at the Toronto-area awards event held June 22 by the not-for-profit TCON Promotional Society were the time-travel film Looper, which took home the trophy for best film, while Mark Ruffalo won best male performance for The Avengers. Sarah Silverman picked up best female performance for her work in the animated film Wreck-It Ralph, and Cloud Atlas won the best technical accomplishment trophy for its cinematography.