Showcase launches Continuum Interactive
The convergent experience, developed with Toronto-based Secret Location, incorporates Vine videos and social media sharing and voting to influence the outcome of the second season finale.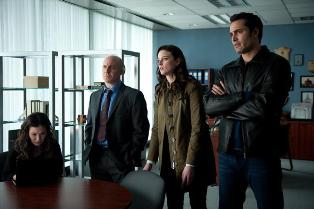 Showcase has launched a convergent experience for sci-fi drama Continuum.
Continuum Interactive, developed by Showcase in association with Toront0-based interactive agency Secret Location, is explained as being a fully integrated initiative that incorporates the Vine mobile app to create a viewer-driven digital narrative.
"We know our fans wanted to dive deeper into the robust Continuum universe, so we leveraged the series' storyline and created a digital narrative to enrich the overall viewing experience," said Shaw Media head of social media Chris Harris in a statement.
As part of Continuum Interactive, an anonymous webmaster will release six-second web-exclusive videos using Twitter-owned mobile app Vine, following each new episode of the TV series.
The videos will focus on both sides of the series' central conflict, and audiences can choose a side in the debate by sharing the videos on Facebook, tweeting to specific Twitter handles and with unique hashtags (that represent the pro or anti sides of the conflict), or creating their own Vine videos.
The strength of the social media sharing lets users influence the outcome of the second season finale. The initiative also lets users keep score on the debate through a website poll.
"This is a rare opportunity for viewers because it gives the audience the ability to actually control the narrative of Continuum," said Secret Location founder and exec producer James Milward in his own statement.
Continuum, from Reunion Pictures, is executive produced by Simon Barry and Patrick Williams.
The second season of Continuum is currently underway on Showcase, and premiered on Apr. 21.